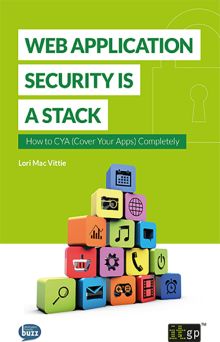 Web Application Security is a Stack - How to CYA (Cover Your Apps) Completely
Details
SKU: 4564
Format: Softcover
ISBN13: 9781849287043
BIC: COMPUTER SECURITY, COMPUTING: GENERAL
BISAC: COMPUTERS / Security / General, COMPUTERS / General
Pages: 78
Published: 17 Feb 2015
Availability: In Stock

Description
Hackers are increasingly moving beyond exploiting flaws that come from mistakes in the software/hardware development process. They are now also targeting areas of the web application stack: namely, protocols and platforms.
In this book, Lori Mac Vittie explains the importance of recognising that 'application' security is really a stack and how this ensures that a growing threat is not ignored.
This book is intended for application developers, system administrators and operators, as well as networking professionals who need a comprehensive top level view of web application security in order to better defend and protect both the 'web' and the 'application' against potential attacks. This book examines the most common, fundamental attack vectors and shows readers the defence techniques used to combat them.
Buy now and see how protecting your web applications significantly improves your cyber defences.
Reviews
Table of contents
1: Introduction
2: Attack Surface
3: Threat Vectors
4: Threat Mitigation
5: Conclusion