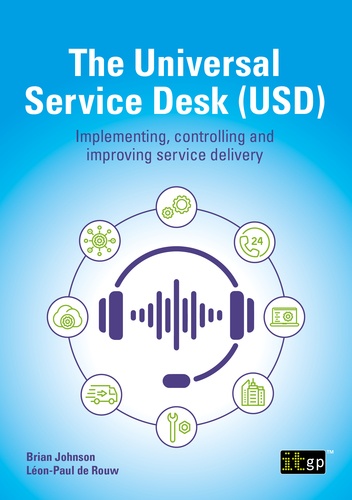 The Universal Service Desk (USD) - Implementing, controlling and improving service delivery
Details
SKU: 5405
Format: Softcover
ISBN13: 9781787781481
BIC: COMPUTING: GENERAL, Information theory, COMPUTING & INFORMATION TECHNOLOGY
BISAC: COMPUTERS / General, COMPUTERS / Information Theory, LANGUAGE ARTS & DISCIPLINES / Library & Information Science / General
Pages: 268
Published: 28 May 2020
Availability: In Stock

Description
Build and implement a successful universal service desk (USD)
A USD is the central point of contact between a service provider and users for everyday activities, and within an organisation for all requests for and enquiries about the services provided to customers, both internal and external.
The USD is a concept of service delivery and resolution through different channels (Internet, post, intranet, phone, email, physical counter). It also covers account management and its focus on customer relationships at different levels in the organisation.
The Universal Service Desk (USD) – Implementing, controlling and improving service delivery defines what a USD is, why it is valuable to an organisation and how to build and implement one. This practical guide gives advice about:
The use of software tools;
Service sites;
Self-service;
Call centre functionality;
Account management;
Processes between the USD and back office;
Quality management;
Competence management;
Capabilities; and
The service catalogue.
It also discusses the evolution of the USD as part of integrated workplace management.
The book provides the tools and insight to further develop and professionalise the USD within your organisation. It is ideal for those working in service management and the service desk industry, from managers to employees, and can also be used by students to understand all the components that relate to a USD.
Understand the essentials of any USD – buy this book today!
Reviews
Table of contents
Introduction
Part 1: The USD – purpose and approach
Introduction
Chapter 1: The USD in the enterprise
Chapter 2: The USD as a concept
Chapter 3: Delivering products and services through the USD
Chapter 4: The USD customers
Chapter 5: From design to reality
Chapter 6: The service desk of Breda University of Applied Sciences
Summary of part 1
Section for your notes
Part 2: Components of the service desk
Introduction
Chapter 7: Service management software
Chapter 8: The virtual USD
Chapter 9: Call centre functionality
Chapter 10: The service counter
Chapter 11: Account management
Chapter 12: Expert USD Staff
Chapter 13: The USD and back office dependencies
Chapter 14: Business information for the USD
Chapter 15: USD management and organisation
Chapter 16: IT and the service help desk – reflections by a provider of managed services
Summary of part 2
Section for your notes
Part 3: Development and improvement of the USD
Introduction
Chapter 17: The USD as a key to management and control
Chapter 18: Contract management and the USD 186
Chapter 19: Success criteria
Chapter 20: Quality improvement
Chapter 21: Implementation and further development
Chapter 22: Improvement possibilities
Chapter 23: The USD of things
Chapter 24: A case study from the UK government
Summary of part 3
Section for your notes
Chapter 25: Finally … for the customer: the USD as an Interface
Bibliography
Further reading