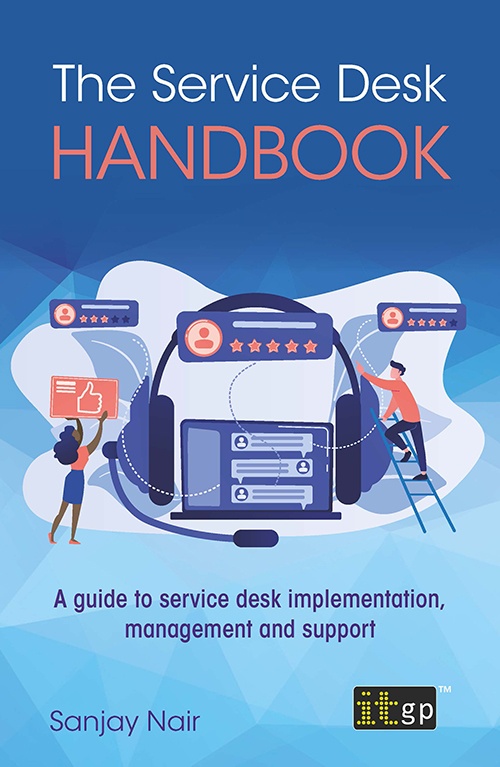 The Service Desk Handbook – A guide to service desk implementation, management and support
Details
SKU: 5580
Format: Softcover
ISBN13: 9781787782358
BIC: COMPUTING: GENERAL, COMPUTING & INFORMATION TECHNOLOGY
BISAC: COMPUTERS / General
Pages: 114
Published: 15 Sep 2020
Availability: In Stock

Description
An IT service desk is the first point of contact between users and an IT organisation. A service desk is a one-stop destination for enquiries, requests and reporting issues, ensuring continuing use of IT services without disruption. They have become intrinsic in modern organisations.
A service desk makes prioritising and responding to customer enquiries much more efficient, saving time and money. More and more organisations are understanding that customer satisfaction is key to developing their business.
The Service Desk Handbook - A guide to service desk implementation, management and support provides operational guidance for implementing, managing and supporting service desks in the enterprise. It will help service desk teams in adopting ITIL® to accomplish their tasks while making the necessary adaptations as per their organisation's needs.
Suitable for service desk agents, supervisors and managers, as well as project managers and senior management looking to revise processes, this book will help readers get a service desk unit off the ground and act as a key reference guide once the service desk has been implemented.
Topics covered include:
• Planning for a service desk;
• Telephony and tooling;
• The service desk team;
• Documentation;
• Performance measures; and
• Technology considerations – artificial intelligence and platforms and tools.
With key tips for service desk team members to follow to provide a world-class experience for their customers, the book also includes information on career paths and certification options for both the individual and the organisation.
Reviews
Table of contents
Chapter 1: What is a service desk?
Chapter 2: Planning for a service desk
Chapter 3: Telephony and ITSM tools
Chapter 4: The service desk team
Chapter 5: Documentation
Chapter 6: Performance measures
Chapter 7: An insight into the future
Chapter 8: Technology considerations
Chapter 9: General reference
Chapter 10: Conclusion
Further reading