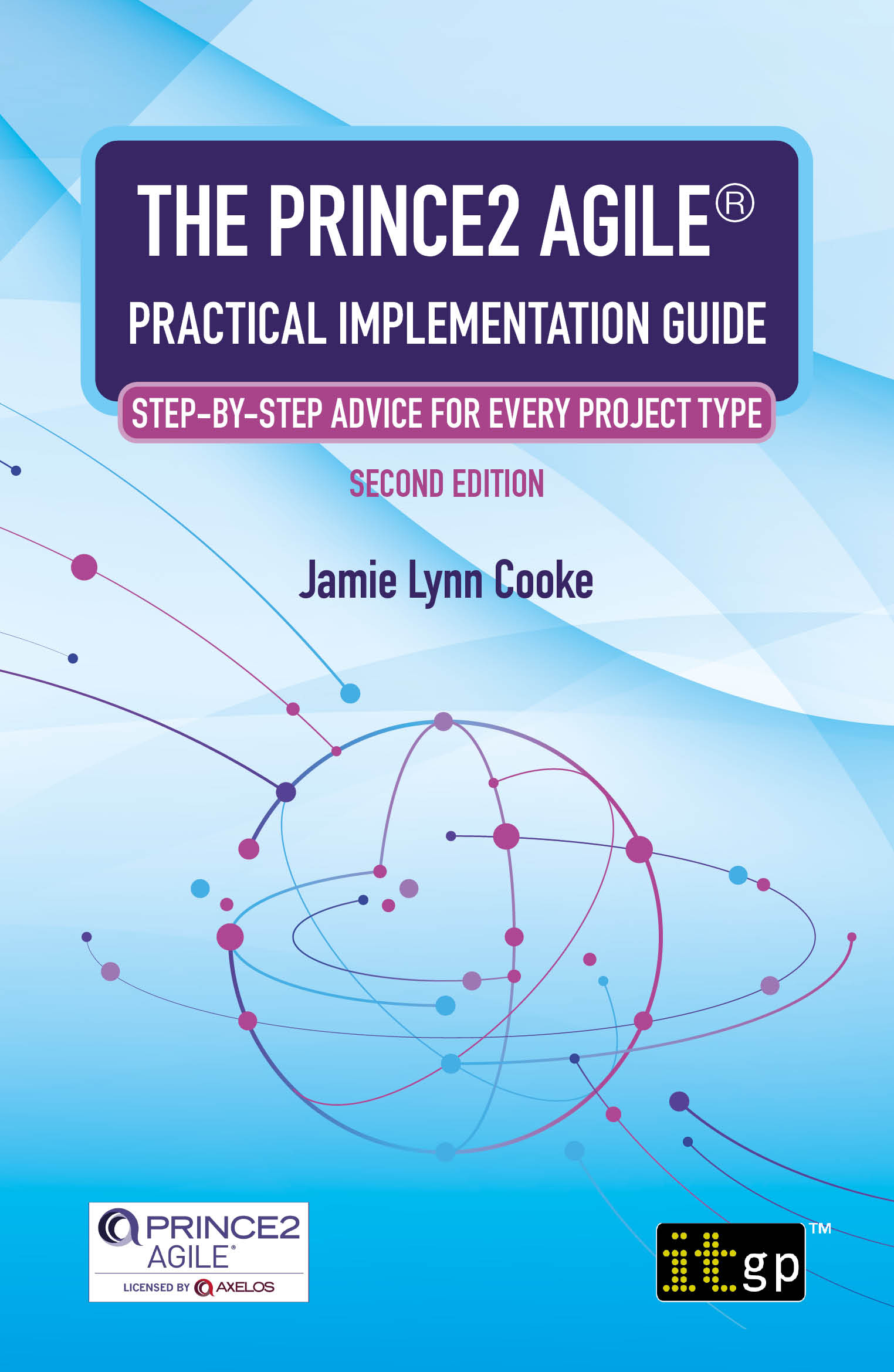 The PRINCE2 Agile® Practical Implementation Guide – Step-by-step advice for every project type, Second edition
Details
SKU: 5781
Format: Softcover
ISBN13: 9781787783331
BIC: Project management, COMPUTING: GENERAL
BISAC: BUSINESS & ECONOMICS / Project Management, COMPUTERS / General
Pages: 150
Published: 11 Nov 2021
Availability: In Stock

Description
The PRINCE2 Agile® Practical Implementation Guide – Step-by-step advice for every project type, Second edition
In today's ever-changing, fast-moving, remote-working, global-reaching marketplace, the key to maintaining your competitive advantage, keeping your products and services relevant, and retaining your customers is responsiveness – being in a position to adapt the work that the organization is doing at any time to align with the most current market, technology, competitive, and corporate information available.
This is why PRINCE2 Agile® is ideal for today's corporate world. It combines the governance, due diligence, and accountability that Senior Management requires with the responsiveness and flexibility that Project Delivery Teams need to do their jobs most effectively.
The PRINCE2 Agile® Practical Implementation Guide – Step-by-step advice for every project type, Second edition explains how the structured, management-driven PRINCE2 project governance framework can work cohesively with team-driven, quality-focused, responsive Agile methods.
This guide provides an overview of PRINCE2® and Agile before detailing the combined PRINCE2 Agile governance and project management framework. It also provides expert guidance on how to implement the PRINCE2 Agile framework in your organization, whether you have existing PRINCE2, Agile or waterfall structures in place, or you are implementing PRINCE2 Agile with no pre-existing frameworks.
The key to successfully implementing PRINCE2 Agile is understanding how it brings together PRINCE2 and Agile best practices into a cohesive framework, and how to adapt that framework to meet your organization's specific needs. This guide is structured to provide you with the core information that you need to understand how PRINCE2 Agile works, and implementation guidelines aligned to the needs of your organization and your projects.
Ideal for PRINCE2 Agile students, project managers, IT managers, senior managers, PRINCE2 users and Agile users, this guide will help you to successfully deliver high business value outcomes within the PRINCE2 Agile framework.
This guide is aligned to the official PRINCE2 Agile® guide, Third impression. PRINCE2® is a registered trade mark of AXELOS Limited. All rights reserved. This book is an official AXELOS licensed product.
Reviews
Table of contents
Introduction
Chapter 1: Overview of PRINCE2
Chapter 2: Overview of Agile
Chapter 3: Overview of PRINCE2 Agile
Chapter 4: Five keys to PRINCE2 Agile success
Chapter 5: Step-by-step guidelines for all PRINCE2 Agile projects
Chapter 6: Moving from PRINCE2 to PRINCE2 Agile
Chapter 7: Merging existing PRINCE2 and Agile methods
Chapter 8: Moving an existing waterfall project to PRINCE2 Agile
Chapter 9: Implementing PRINCE2 Agile with no existing framework
Chapter 10: Moving from Agile to PRINCE2 Agile