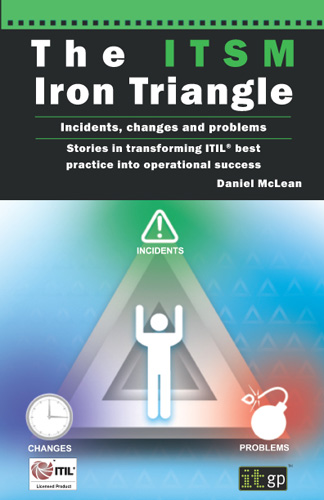 The ITSM Iron Triangle - Incidents, changes and problems
Details
SKU: 3721
Format: Softcover
ISBN13: 9781849283175
BIC: COMPUTING: GENERAL
BISAC: COMPUTERS / General
Pages: 196
Published: 05 Jan 2012
Availability: In Stock

Description
Attitudes and behaviour are the biggest barriers to making changes within organisations. IT process implementation is no different. How do you do it? What is the key? What are the pitfalls? It is one thing to be told how to do these things, but wouldn't it be better to hear how someone else has handled similar problems?
Meet the book's hero, Chris. Chris is assigned a seemingly impossible task – a problem that many previous project managers couldn't fix. Will Chris go the way of previous project managers and be 'given the opportunity to be more successful elsewhere' – or will Chris deliver the objectives and impress company leadership?
For this project to be successful, Chris needs to change the way colleagues and superiors approach the problem. Learn from the successes – and mistakes – as you join in the search for workable solutions and attempts to bring colleagues and superiors on board.
By reading this book, you will understand:
what your colleagues want and how to obtain their support
how to communicate your goals in way that inspires, and encourage colleagues to take ownership of relevant parts of the process
how to build your own credibility and the importance of measuring and communicating your successes
how to communicate about the project to staff at all levels
how to identify your clients and keep them happy
the importance of communicating the 'Why', as well as the 'What' and the 'How' of your project.
Get practical tips and key strategies to implement ITIL into your business.
Reviews
Table of contents
1: Change in Assignment
2: Into the Fire
3: Turning up the Heat
4: Searching for the Right Place to Start
5: Investigating the Wetware
6: Managing Service Outages
7: Time to Refocus
8: The Five Questions
9: What is that Light at the End of the Tunnel?
10: Not Everyone Likes Answers
11: Why Service Outages are like Dandelions
12: When No One is Around
13: The Right Thing the Wrong Way
14: Going Through them Changes
15: Some Fingers Point and Some Hands Clap
16: What Have you Done for me Today?