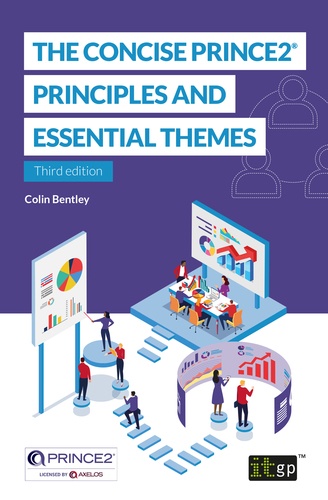 The Concise PRINCE2® - Principles and essential themes - Third edition
Details
SKU: 4990
Format: Softcover
ISBN13: 9781787780606
BIC: Project management, Management: leadership & motivation, BUSINESS & MANAGEMENT, Management & management techniques, Business communication & presentation
BISAC: BUSINESS & ECONOMICS / Project Management, BUSINESS & ECONOMICS / Management
Pages: 100
Published: 12 Mar 2019
Availability: In Stock

Description
Succeed as a PRINCE2® practitioner with this concise overview.
PRINCE2 is the leading model for effective project management methodology. PRINCE2 certification will help you implement projects across your organisation efficiently, creating a controlled and manageable environment for employees.
The Concise PRINCE2® – Principles and essential themes helps you throughout your PRINCE2 qualification journey. This guide explains the fundamental principles of PRINCE2 2017, enabling you to review essential themes before taking your PRINCE2 Foundation exam. Following accreditation, it serves as a reference guide to help you manage ongoing PRINCE2 projects within your organisation.
Ideal for anyone involved with implementing a new project that uses the PRINCE2 framework, whether you are a student, project board member or team manager, this guide will help you:
Prepare for your PRINCE2 2017 Foundation exam;
Implement PRINCE2-aligned projects; and
Enhance your skills as a PRINCE2 practitioner.
Key features:
Concise summary of the fundamental principles and themes of PRINCE2 2017.
Clear and comprehensible format with helpful diagrams and tables.
Serves as a reference guide while you manage ongoing PRINCE2 projects.
New for the third edition:
Updated to align with PRINCE2 2017.
New diagrams to aid understanding of the framework.
A succinct reference guide that summarises the key elements of PRINCE2 2017 – buy this book today to get the help and guidance you need!
Reviews
Table of contents
Introduction
Overview
What is a project?
PRINCE2® structure
1: Processes
Starting up a project
Directing a project
Initiating a project
Controlling a stage
Managing product delivery
Managing a stage boundary
Closing a project
2: Themes
Business case
Organisation
Plans
Quality
Risks
Change
Progress
3: Techniques
Product-based planning
Quality review
4: Tailoring
Existing terms, procedures and forms
Business case
Organisation
Plans
Quality
Risk
Change
Progress
Documents
Processes
Glossary of terms