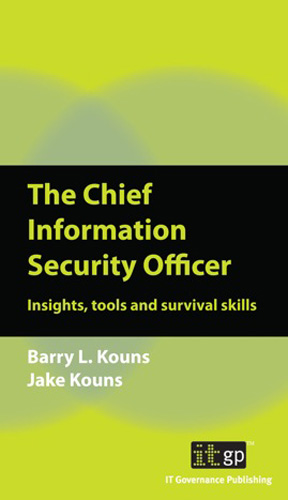 The Chief Information Security Officer - Insights, tools and survival skills
Details
SKU: 3353
Format: Softcover
ISBN13: 9781849281829
BIC: COMPUTER SECURITY
BISAC: COMPUTERS / Security / General
Pages: 74
Published: 05 May 2011
Availability: In Stock

Description
The CISO has overall responsibility for corporate security strategy, but today's CISO has to be in the business of managing information, not just securing it. The successful CISO needs to have excellent communication and presentation skills, and to demonstrate keen business acumen.
The serious and ever-changing nature of today's security threats demand a strategic-minded response, and a successful CISO will always be thinking about how to gain business objectives through enabling technology while properly managing risk.
This pocket guide emphasises the importance of a suitable information security management system (ISMS) and the risk management methodolgy that should be at its heart. It describes the hard and soft skills that a successful CISO requires: not just a good knowledge of information security, but also attributes such as flexibility and communication skills.
Discover the skills you need to be a successful CISO in today's changing world.
Reviews
Table of contents
1: The Nature of the CISO Role
2: The Traditional CISO Job Description
3: The Changing CISO Role
4: The New CISO's Toolbox
5: Risk Management
6: The Information Security Management System
7: CISO Survival
8: Summary - You Become What You Think About