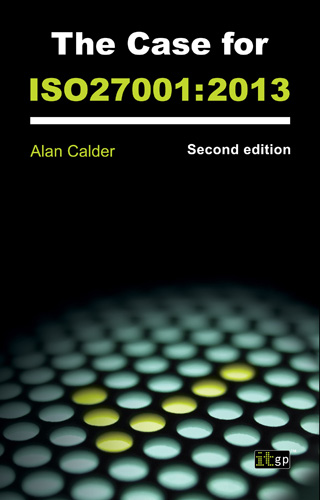 The Case for ISO27001:2013
Details
SKU: 177
Format: Softcover
ISBN13: 9781849285308
BIC: COMPUTING & INFORMATION TECHNOLOGY
BISAC: COMPUTERS / Security / General
Pages: 112
Published: 28 Nov 2013
Availability: In Stock

Description
Information and information systems are vital to every organisation. Our reliance on data and information, and the fact that it is so easy to share, means that everyone is at risk of cyber attack from hackers, viruses, online fraudsters, malicious insiders, or even from simple human error.
To counter these threats you have to identify the real information risks your business faces, then you need to find the most appropriate way to mitigate such risks. Adopting the ISO27001 Standard will give your organisation a reliable framework for creating an information security management system.
This friendly guide, updated to reflect ISO27001:2013, presents the compelling business case for implementing ISO27001 in order to protect your information assets. This makes it ideal reading for anyone unfamiliar with the many benefits of the standard, and as a supporting document for an ISO27001 project proposal.
Learn how ISO 27001 protects your organisation's information assets. Buy this book today. 
Reviews
Table of contents
1: Information Economy, Intellectual Capital
2: Information, IT and Competitiveness
3: Information Threats
4: Insecurity Impacts
5: 'Traditional' Threats
6: Information Risk in Large Organisations
7: Organised Crime
8: Terrorism
9: Evolving Threat Environment
10: Regulatory Compliance
11: Data Protection and Privacy
12: Anti-Spam Legislation
13: Computer Misuse Legislation
14: Human Rights
15: Record Retention and Destination
16: Information Security Governance
17: Benefits of an ISO27001 ISMS
18: ISO27001 in the Public Sector
19: Is ISO27001 for you?
20: How do you go about ISO27001?
21: Selection of a Certification Body
Appendix 1: ISO27001 - Past, Present and Future