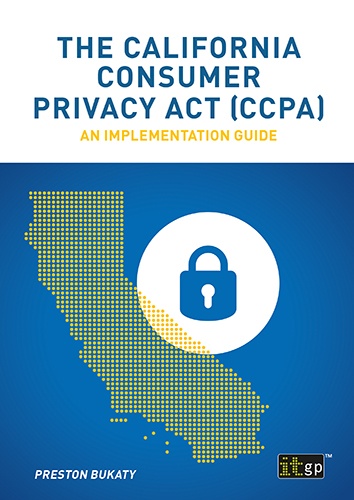 Description
Understand the CCPA (California Consumer Privacy Act) and how to implement strategies to comply with this privacy regulation.
Established in June 2018, the CCPA was created to remedy the lack of comprehensive privacy regulation in the state of California. The CCPA came into effect on January 1, 2020, and gives California residents the right to: 
Learn what personal data a business has collected about them
Understand who this data has been disclosed to
Find out whether their personal data has been sold to third parties, and who these third parties are
Opt out of such data transactions, or request that the data be deleted.
Many organizations that do business in the state of California must align to the provisions of the CCPA. Much like the EU's GDPR (General Data Protection Regulation), businesses that fail to comply with the CCPA will face economic penalties.
Achieve CCPA compliance with our implementation guide that:
Provides the reader with a comprehensive understanding of the legislation by explaining key terms
Explains how a business can implement strategies to comply with the CCPA
Discusses potential developments of the CCPA to further aid compliance
Your guide to understanding the CCPA and how you can implement a strategy to comply with this legislation – buy this book today to get the guidance you need!
Reviews
Table Of Contents
Introduction
Chapter 1: CCPA Jurisdiction – Territorial
Chapter 2: CCPA Jurisdiction -  Material
Chapter 3: The CCPA - Key definitions
Chapter 4: Roles in the CCPA: Businesses, business purpose and service provider
Chapter 5: Rights of consumers and obligations of the business
Chapter 6: Security requirements
Chapter 7: Penalties
Chapter 8: Breach Notifications
Chapter 9: Other related laws - Maintaining customer records
Chapter 10: Future developments of the CCPA
Chapter 11: The CCPA - Text as of April, 2019