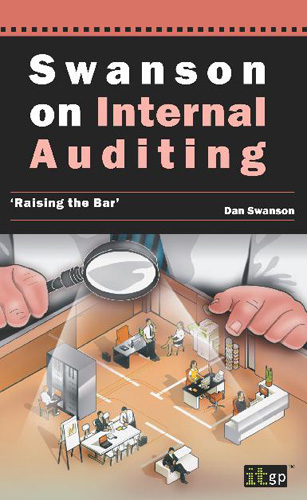 SWANSON on Internal Auditing - Raising the Bar
Details
SKU: 3109
Format: Softcover
ISBN13: 9781849280679
BIC: COMPUTER SECURITY
BISAC: COMPUTERS / Security / General
Pages: 334
Published: 24 Aug 2010
Availability: In Stock

Description
Based on a series of hugely popular articles from Compliance Week, this book is a concise commentary on strategic issues concerning the way internal audit is established, planned and performed. High-level issues sit alongside practical guidance to ensure the book appeals to all levels of internal audit management staff.
The book introduces the internal audit function, and then looks at specific topics that internal auditors must know, including risk management, IT security, business continuity, ethics and compliance.
The author draws on a wide range of resources, and includes details of websites and key literature that encourage further exploration. Commentaries on the wide variety of topics that the author has examined over the years are followed up by various references, including the most important work of the Institute of Internal Auditors.
Buy this book today and learn how to use your internal audit process to navigate risks and increase business prospects.
Reviews
Table Of Contents
1: Introduction to Internal Audit
2: The Professional Practice of Internal Audit
3: Improving Internal Audit Results
4: My Favorites
5: IIA Related Guidance
6: Priorities for the Coming Decade
7: Tackling IT Audit
8: Healthcare Internal Auditing
9: IT Audit Checklists
10: AuditNet Dan Swanson's Columns
11: IT World Canada: IT Security Resource Blog
12: Sentinel: The IT Governance Newsletter
13: CIO Canada: IT Management Columns
14: Keeping Our Kids Safe!
15: Learn from the Past and 'Think'