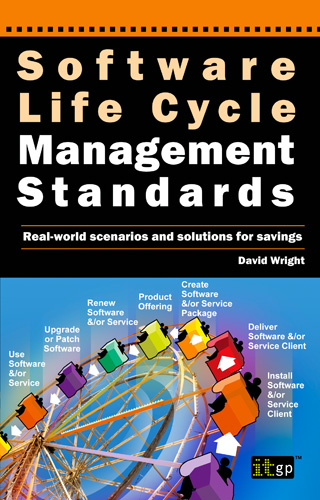 Software Life Cycle Management Standards - Real-world scenarios and solutions for savings
Details
SKU: 3478
Format: Softcover
ISBN13: 9781849282048
BIC: COMPUTING: GENERAL
BISAC: COMPUTERS / General
Pages: 204
Published: 26 Jul 2011
Availability: In Stock

Description
Those involved in software management, from the publisher/OEM and third-party reseller through to the enterprise software consumer, will benefit from the insights presented here. Software developers and publishers can improve their processes, leading to financial savings and far greater customer satisfaction. Enterprise software consumers are able to manage software deployments, versions, patches and usage, and measure these against entitlements. The pain of the periodic 'true-up' event is gradually removed, enabling continuous management of the 'true value' of your software investment.
The advent of ISO/IEC 19770 is a leap forward for all who have an interest in the software life cycle, from designer to consumer. In five parts, three of which are still under development, the Standard defines best practice for all aspects of software asset management and introduces SWID (software identification) tags and SWEID (software licensing entitlement) tags.
Software Life Cycle Management Standards details each part of ISO/IEC 19770 and shows you how to apply it to your business. David Wright calls on his vast experience to explain how the Standard applies to the entire software life cycle, not just the software asset management aspects. His informative guide gives up-to-date information using practical examples, clear diagrams and entertaining anecdotes.
An essential guide for all who are considering, or already navigating, the ISO/IEC 19770 road.
Reviews
Table of contents
1: Software Asset Management: Both Sides of the Equation
2: Current Approaches in both Process and Technology
3: What is ISO/IEC 19770?
4: Introduction to the SWID Tag
5: Implementation of the ISO/IEC 19770-2 Process
6: The ISO/IEC 19770-2 SWID Tag Data Fundamentals
7: SWID Tag Certification Requirements
8: ISO/IEC 19770-3 Considerations
9: Software Feature Design Related to SWID/SWEID Tag Management for Tag Creators and Modifiers
10: SWID and SWEID Tag Management for Consumers