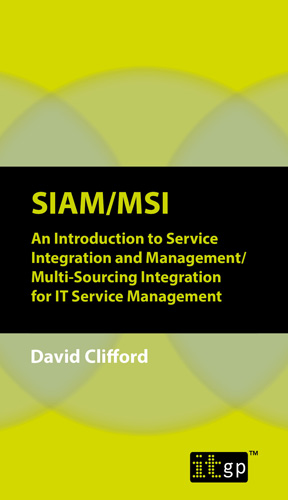 SIAM/MSI - An Introduction to Service Integration and Management/ Multi-Sourcing Integration for IT Service Management
Details
SKU: 4792
Format: Softcover
ISBN13: 9781849288514
BIC: COMPUTING: GENERAL, COMPUTING & INFORMATION TECHNOLOGY
BISAC: COMPUTERS / General
Pages: 72
Published: 18 Oct 2016
Availability: In Stock

Description
Integrating and managing the services of multiple third-party IT service providers is becoming increasingly popular, but there is no formal best-practice guidance for service integration and management (SIAM).
This book provides clear guidance on the SIAM process, answering questions on what service integration is, when SIAM is applicable, and what approach should be taken when sourcing ITSM services in a multi-sourced environment.
If you're thinking of moving from a single-source to a multi-source outsourcing model,SIAM/MSI – An Introduction to Service Integration and Management/Multi-Sourcing Integration for IT Service Management provides the answers to all of your questions.
Get your copy of this handy pocket guide to SIAM today. 
Reviews
Table of contents
1: Types of Outsourcing
2: Moving from the Traditional MSP Model
3: Sourcing Market Trends
4: Determining the Governance and IT Operating Model
5: Types of Service Integration Models
6: Aggregating Service Level Performance
7: Multi-sourcing RFP Approach
8: Transition Stage
9: Looking Further into the Future
10: Abbreviations Used/Glossary