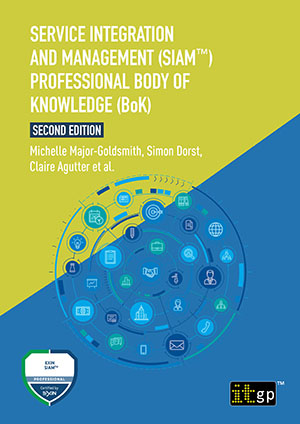 Service Integration and Management (SIAM™) Professional Body of Knowledge (BoK), Second edition
Details
SKU: 5715
Format: Softcover
ISBN13: 9781787783133
BIC: COMPUTING: GENERAL, COMPUTING & INFORMATION TECHNOLOGY
BISAC: COMPUTERS / General
Pages: 352
Published: 29 Jul 2021
Availability: In Stock

Description
The official guide for the EXIN SIAM™ Professional certification

SIAM (service integration and management) is an evolution of how to apply a framework for integrated service management across multiple service providers. It has developed as organizations have moved away from outsourced contracts with a single supplier to an environment with multiple service providers.
SIAM supports cross-functional, cross-process and cross-provider integration. It creates an environment where all parties:
Know their role, responsibilities and context in the ecosystem
Are empowered to deliver
Are held accountable for the outcomes they are required to deliver
Service Integration and Management (SIAM™) Professional Body of Knowledge (BoK), Second edition has been updated to reflect changes to the market and is the official guide for the EXIN SIAM™ Professional certification. This book will help candidates pass their Professional certification and expands upon the topics introduced in Service Integration and Management (SIAM™) Foundation Body of Knowledge (BoK), Second edition.
The book will appeal to:
Anyone wishing to build on their foundation-level knowledge of SIAM and achieve the SIAM™ Professional certification
Customer organizations and their staff looking for guidance when managing a multi-service provider environment
Service integrators and their staff wishing to work in a SIAM ecosystem effectively
Internal and external service providers and their staff wishing to understand their role in a SIAM ecosystem
Consultants in service management and other frameworks who wish to expand their knowledge
Prepare for your SIAM™ Professional exam and understand how SIAM can benefit your organization!
Reviews
Table of contents
Chapter 1: Introduction
Chapter 2: SIAM roadmap stage 1: Discovery & Strategy
Chapter 3: SIAM roadmap stage 2: Plan & Build
Chapter 4: SIAM roadmap stage 3: Implement
Chapter 5: SIAM roadmap stage 4: Run & Improve
Appendix A: Glossary of terms
Appendix B: Case studies
Appendix C: Lean, DevOps and Agile SIAM
Appendix D: Staff displacement legislation
Further reading