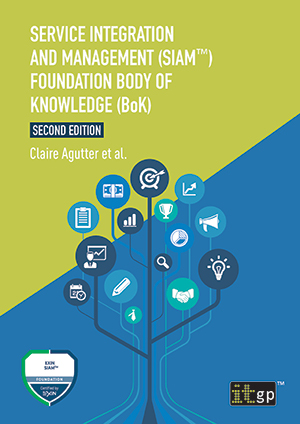 Service Integration and Management (SIAM™) Foundation Body of Knowledge (BoK), Second edition
Details
SKU: 5714
Format: Softcover
ISBN13: 9781787783102
BIC: COMPUTING: GENERAL, COMPUTING & INFORMATION TECHNOLOGY
BISAC: COMPUTERS / General
Pages: 224
Published: 20 Jul 2021
Availability: In Stock

Description
The official guide for the EXIN SIAM™ Foundation certification

SIAM (service integration and management) is an evolution of how to apply a framework for integrated service management across multiple service providers. It has developed as organizations have moved away from outsourced contracts with a single supplier to an environment with multiple service providers.
SIAM supports cross-functional, cross-process and cross-provider integration. It creates an environment where all parties:
Know their role, responsibilities and context in the ecosystem
Are empowered to deliver
Are held accountable for the outcomes they are required to deliver
Service Integration and Management (SIAM™) Foundation Body of Knowledge (BoK), Second edition has been updated to reflect changes to the market and is the official guide for the EXIN SIAM™ Foundation certification. This book will help candidates pass their Foundation certification, as well as serve as a useful reference guide once they are implementing SIAM practices.
Suitable for anyone working in ITSM (IT service management), IT, service integration and project management, the book introduces the EXIN SIAM™ Foundation syllabus and provides essential reading for the Foundation exam. It also offers a detailed introduction to the SIAM methodology for those who do not want to undertake formal certification.
Prepare for your SIAM™ Foundation exam and understand how SIAM can benefit your organization!
Reviews
Table of contents
Chapter 1: Introduction to Service Integration and Management (SIAM)
Chapter 2: SIAM roadmap
Chapter 3: SIAM structures
Chapter 4: SIAM and other practices
Chapter 5: SIAM roles and responsibilities
Chapter 6: SIAM practices
Chapter 7: SIAM cultural considerations
Chapter 8: Challenges and risks
Appendix A: Glossary of terms
Appendix B: The SIAM Process Guides
Further reading