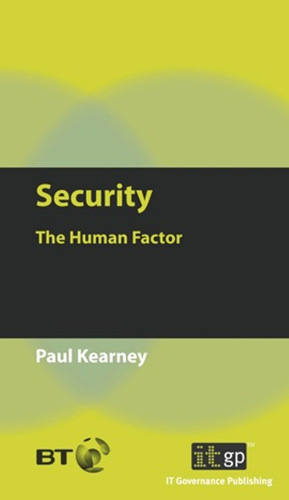 Security - The Human Factor
Details
SKU: 3068
Format: Softcover
ISBN13: 9781849280631
BIC: COMPUTER SECURITY
BISAC: COMPUTERS / Security / General
Pages: 72
Published: 16 Dec 2010
Availability: In Stock

Description
While technologies, such as antivirus software and encryption, can offer some protection against cyber crime, security breaches are most often the result of human error and carelessness. Improving information security within your organisation, therefore, has to encompass people and processes, as well as technology. Motivating your team and making them more aware of security concerns should be at the heart of your information security strategy. At the same time, the processes you have in place to address information security issues need to be straightforward and properly understood if you want your employees to adhere to them. 
BT's approach
This pocket guide is based on the approach used by BT to protect its own data security – one that draws on the capabilities of both people and technology. The guide will prove invaluable for IT managers, information security officers and business executives.
Security: The Human Factor looks at the challenges associated with information security, the consequences of failing to meet them and – most importantly – at the steps organisations can take to make themselves and their information more secure.
Enhance your information security by engaging and motivating your staff.
Reviews
Table of contents
1: Carelessness
2: Accidental Disclosure
3: People are Intelligent
4: An Aside: Password Policies
5: People are Helpful and Trusting
6: Harnessing Human Qualities to Improve Security
7: Why Raise Awareness?
8: Beyond Awareness
9: The Extended Enterprise
10: Process Design
11: Usability
12: And Finally