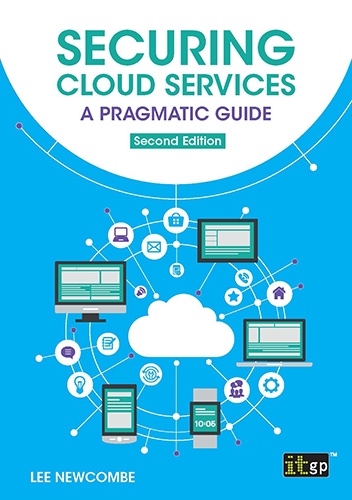 Securing Cloud Services - A pragmatic guide - Second edition
Details
SKU: 5517
Format: Softcover
ISBN13: 9781787782051
BIC: Cloud computing, COMPUTER SECURITY
BISAC: COMPUTERS / Networking / General, COMPUTERS / Security / General, COMPUTERS / General, COMPUTERS / Distributed Systems / General
Pages: 472
Published: 09 Apr 2020
Availability: In Stock

Description
Reap the rewards – implement Cloud services in a risk-controlled manner
Securing Cloud Services – A pragmatic guide gives an overview of security architecture processes and explains how they may be used to derive an appropriate set of security controls to manage the risks associated with working in the Cloud. The book:
Introduces the concepts of Cloud computing and the associated security threats;
Explains key security architectures and how they can be applied to Cloud services; and
Covers security considerations for the different Cloud service models: IaaS (Infrastructure as a Service), PaaS (Platform as a Service), SaaS (Software as a Service) and FaaS (Function as a Service).
Cloud computing represents a major change to the IT services landscape, but it also introduces changes to the risk landscape, which need to be understood and addressed. The flexibility of Cloud computing does not come without compromise or risk.
Security remains a major concern for CIOs (chief information officers) considering a move to Cloud-based services. This book gives organisations pragmatic guidance on how to achieve consistent and cohesive security across their IT services – regardless of whether those services are hosted on-premises, on Cloud services or using a combination of both.
This guidance in Securing Cloud Services – A pragmatic guide is provided through the application of a Security Reference Model to the different Cloud delivery models – IaaS, PaaS and SaaS – and also considers the changes in approach required to work securely with the newer FaaS model.
Part 1 introduces the concepts embodied within Cloud computing, describes the associated security threats and lists some of the leading industry initiatives dedicated to improving the security of Cloud services.
Part 2 introduces security architecture concepts and a conceptual Security Reference Model. This model is then applied to the different Cloud service models to show how the conceptual security services within the reference model can be delivered for each Cloud service model.
This book will help organisations looking to implement Cloud services aimed at the enterprise – such as Amazon Web Services, Microsoft Azure, Google Cloud Platform and Salesforce – and to do so in a risk-managed manner.
It is aimed at business decision makers, senior IT stakeholders, enterprise architects, information security professionals and anyone else who is interested in working with Cloud services but might be concerned about the potential security implications.
Manage the risks associated with Cloud computing – buy this book today!
Reviews
Table of contents
Part 1: Securing Cloud services – setting the scene
Introduction
Chapter 1: Introduction to Cloud computing
Chapter 2: Overview of existing Cloud taxonomies
and models
Chapter 3: The security balance
Chapter 4: Security threats associated with Cloud computing
Chapter 5: Privacy and regulatory concerns
Part 2: Securing Cloud services – in practice
Introduction
Chapter 6: Introduction to security architecture
Chapter 7: Application of security architecture to
Cloud computing
Chapter 8: Security and the Cloud
Chapter 9: Security and Infrastructure as a
Service
Chapter 10: Security and Platform as a Service
Chapter 11: Security and Software as a Service
Chapter 12: Security and Function as a Service
Part 3: Conclusion
Introduction
Chapter 13: Looking ahead
Chapter 14: Conclusion and summary
Appendix A: SRM security service assignments
Further reading