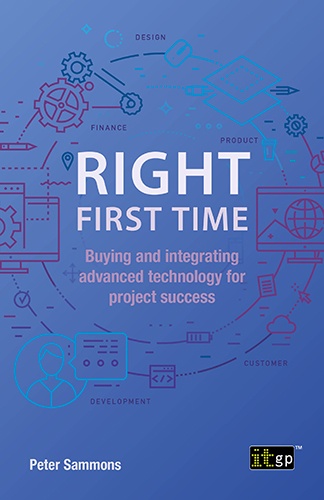 Right First Time - Buying and integrating advanced technology for project success
Details
SKU: 5780
Format: Softcover
ISBN13: 9781787783294
BIC: Project management
BISAC: BUSINESS & ECONOMICS / Project Management
Pages: 252
Published: 12 Oct 2021
Availability: In Stock

Description
Why do projects fail?
The people who plan and execute major projects are often highly skilled and highly regarded. They are not obviously incompetent. Where a project uses external suppliers or contractors as a significant support to project delivery, the risk of a fundamental failure seems to escalate. Is this a failure of project management? A failure of procurement? A failure of both? Or are there other factors at play?
This book aims to be a self-help manual. It will enable you to improve your personal and corporate performance. It will also help you ensure that the sub-system elements of a project, where there are 'interfaces' between systems that need to 'talk' to each other, will be effectively managed – with no nasty surprises.
Buying and integrating advanced technology
Right First Time – Buying and integrating advanced technology for project success does not pretend to hold the key to a 'nirvana' of project delivery. Rather, it gets straight to the point about buying – and integrating – advanced technology. It recognises that integrating sub-systems is fertile ground for failure and that effective procurement is increasingly important in project delivery.
The failure of one sub-system can undermine an entire project, and the integration of sub-components is all too often assumed to be a technical problem that 'technical people' will overcome. Few projects make integration a defined subset of the overall project plan, yet most will benefit from doing so.
A project management playbook
A management book rather than a technical book, Right First Time – Buying and integrating advanced technology for project success focuses on the difficult issue of sub-system integration in the context of third-party (supply) relationships. If you are responsible for project management and practical delivery, at senior or junior level, it provides lots of practical questions to help you work through the issues, acting as a catalyst for supplementary questions and lines of investigation, focusing on potential problem areas relevant to your own context.
Powerful learning outcomes and self-reflective questions at the end of each chapter enable you to create key action points and assess your organisation's approach to improve project management governance and ensure you get it right first time.
Project managers, procurement managers, business change managers, commercial managers, mobilisation/transition managers, product managers and contract managers will all find value in this comprehensive guide to managing sub-system integration for project success.
"Overall, this was excellent; I enjoyed reading it. It is obvious that the author has a vast wealth of experience which they have articulated very well into a comprehensive and strong flowing manual."
- Chris Achillea 
Reviews
Table of contents
Introduction
Chapter 1: Being Aware
Chapter 2: Make or Buy?
Chapter 3: Integrate
Chapter 4: Stakeholders
Chapter 5: Project Tiger
Chapter 6: Risk Characterisation
Chapter 7: Market Test
Chapter 8: Buy Phase and Integration
Chapter 9: Project Communications
Chapter 10: Client-side Tasks
Chapter 11: Business as Usual
Chapter 12: Contracting
Chapter 13: Systems Integration
Chapter 14: Integration Data
Chapter 15: Contract Management
Chapter 16: Delivering The Project – Right First Time
Chapter 17: Regulatory Permissions
Chapter 18: Handover and Certification
Appendix 1: Technical Specifications – Notes
Appendix 2: Stakeholder List
Appendix 3: Basic contract materiality review (BCMR)
Appendix 4: Contract pricing strategies
Appendix 5: Project Communications and The 'Project Memo' System 
Appendix 6: Generic procurement process – Potential integration issues
Appendix 7: System Integration – Concepts
Appendix 8: ISO Standards and Certifications
Appendix 9: Glossary
Further reading