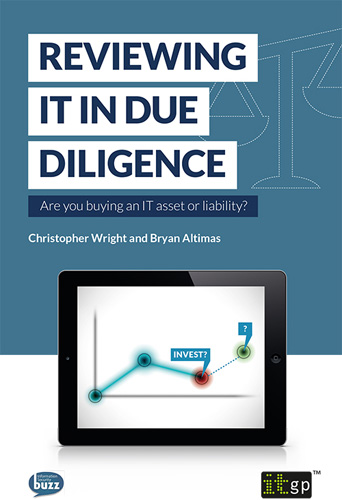 Reviewing IT in Due Diligence - Are you buying an IT asset or liability
Details
SKU: 4565
Format: Softcover
ISBN13: 9781849287203
BIC: COMPUTING: GENERAL
BISAC: COMPUTERS / General
Pages: 120
Published: 19 Feb 2015
Availability: In Stock

Description
When you merge with or acquire another business, you also gain their IT and data. In an ideal world this integration would be seamless and easy.  In reality, however, this is often not the case. Mergers can, for example, lead to badly configured data or the loss of sales systems. These IT issues are often overlooked in due diligence reviews. In a world of increasing cyber attacks and information security threats, this can be a very risky mistake to make.
Reviewing IT in Due Diligence provides an introduction to information risk management (IRM) in due diligence, and outlines some of the key IT issues to consider as part of the due diligence process.
It explains how to conduct an IT due diligence review, from scoping to reporting, and includes information on post-merger integration to maximise the business benefits. It also provides fresh insight into the process, highlighting issues that need to be addressed, and provides a business case for IRM involvement in the due diligence process. Comprehensive case studies are included throughout the book.
Essential reading for anyone who needs to understand the key IT issues that need to be considered in the due diligence process.
Reviews
Table of contents
1: Introduction to Due Diligence
2: Why is IT Important in Due Diligence?
3: Systems Reviews
4: IT Security
5: Data Reviews
6: Reviewing Projects and Changes in Progress
7: IT Service Provision and Value for Money
8: Reporting IT Due Diligence Assignments
9: Post Due-Diligence