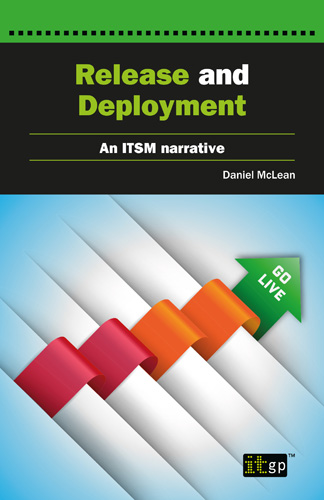 Release and Deployment - An ITSM narrative
Details
SKU: 4730
Format: Softcover
ISBN13: 9781849287777
BIC: COMPUTING: GENERAL
BISAC: COMPUTERS / General
Pages: 180
Published: 17 Dec 2015
Availability: In Stock

Description
With so many interested constituencies, processes can go wrong in more ways than they can go right. The problems start when requirements are gathered and, if unmanaged, can flow unchecked through the entire process, potentially delivering something that's bound to fail while, paradoxically, exactly meeting the specification.
In Release and Deployment: An ITSM Narrative Account, we follow the story of the release & deployment process in fictional form.
This latest ITSM narrative from Daniel Mclean explains the common pitfalls of release & deployment in fictional form, with each chapter describing a difficult meeting with a different department head and featuring a set of pointers that our hero would have found beneficial.
Based on the real-life experience of the author and other ITSM practitioners, Release and Deployment: An ITSM Narrative Account exposes the potential pitfalls and explores how to handle the issues that come with such projects, all in the face of shifting organisational structures and changing management objectives.
Make sure your release and deployment initiatives don't end in failure. 
Reviews
Table of contents
1: Winning The Job
2: Where Did My Job Go?
3: Finance – Wisdom or Indifference?
4: Bad Beginnings
5: Requirements – Voice of the Business
6: Sales – Heart of the Business
7: Application Development
8: Infrastructure – Physical Clouds
9: QA – Guardians of the Gates
10: Management Intervention
11: Change Management – Short Circuit
12: Release – Let Slip the Dogs of War
13: Deploy – The End of the Beginning