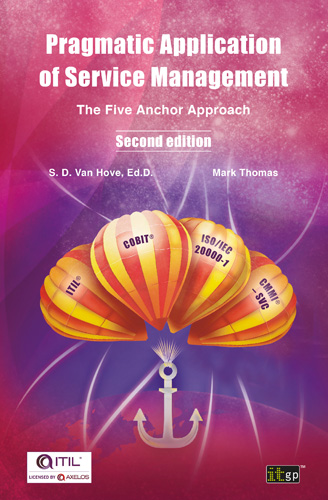 Pragmatic Application of Service Management - The Five Anchor Approach
Details
SKU: 4802
Format: Softcover
ISBN13: 9781849288750
BIC: COMPUTING: GENERAL, COMPUTING & INFORMATION TECHNOLOGY
BISAC: COMPUTERS / General
Pages: 150
Published: 15 Dec 2016
Availability: In Stock

Description
Although ITIL's popularity as a framework for IT service management (ITSM) continues to increase, a number of organisations have realised that its approach is sometimes not quite enough on its own. Many are already working towards compliance with ISO 20000-1 — the international standard for ITSM — but, with the likes of COBIT and CMMI-SVC to consider as well, it can be difficult to determine the best route to take. Guidance is now here.
Completely updated by service management gurus Suzanne D. Van Hove and Mark Thomas, the second edition of Pragmatic Application of Service Management – The Five Anchor Approach provides comprehensive guidance, instructive illustrations, and helpful tables to create an integrated system based on COBIT, ISO 20000, ITIL, and CMMI-SVC. This practical book enables service managers to immediately adapt and deploy the guidance, and quickly improve their ITSM function.
Pragmatic Application of Service Management now features a short chapter on applying the Five Anchors Approach to integrating service management frameworks in very small enterprises (VSEs), and contains five new 'caselets' (short case studies).
Create a more robust service management system using the best of ITIL®, ISO 20000-1, COBIT®, and CMMI®-SVC. Buy your copy today. 
Reviews
Table of contents
1: Why This Book
2: COBIT, ISO/IEC 20000, ITIL and CMMI-SVC 
3: Addressing VSEs
4: The Five Anchors
5: Caselet #1 – Governance
6: Caselet #2 – Resource Optimization
7: Caselet #3 – Risk Management
8: Caselet #4 – Achieve Business Outcomes
9: Caselet #5 – Compliance & Improvement
10: Caselet #6 - Strategic Alignment
11: Caselet #7 – Security, Compliance & Risk
12: Caselet #8 - Value-based Portfolio
13: Caselet #9 – Strategy Choice & Market Conditions
14: Caselet #10 – Plan & Use Resources
Appendix A – The Map