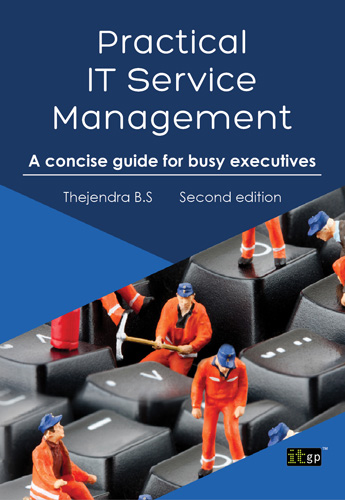 Practical IT Service Management - A concise guide for busy executives
Details
SKU: 1495
Format: Softcover
ISBN13: 9781849285469
BIC: COMPUTING: GENERAL
BISAC: COMPUTERS / General
Pages: 294
Published: 11 Feb 2014
Availability: In Stock

Description
With the influence of technology growing rapidly in all business functions, getting to grips with IT service management is now crucial for achieving business objectives. It is not enough for the IT manager to understand the latest technical developments. For your company to succeed, everyone in the IT department must also understand their role in achieving overall business goals.
Written in a friendly question-and-answer format, this book explains how to set up a technical service management structure, using the best practice framework established by the latest version of the IT Infrastructure Library (ITIL® 2011).
Learn how ITIL can help you to:
protect your company's reputation by fixing issues quickly
safeguard vital information and recover from IT setbacks
apply the principles of IT service management in a structured way to boost business efficiency
Read this book to see how ITIL can help your IT function support business goals.
Reviews
Table of contents
1: Introduction to IT Service Management
2: Overview of ITIL 2011
3: The ITIL Lifecycle
4: Service Desk Function
5: Incident Management
6: Problem Management
7: Change Management
8: Release and Deployment Management
9: Service Asset and Configuration
10: Service Level Management
11: Service Catalogue Management
12: Capacity Management
13: Demand Management
14: Availability Management
15: Information Security Management
16: Access Management
17: IT Service Continuity Management
18: Financial Management for IT Services
19: Supplier Management
20: IT Operations Management Function
21: General Tips and Advice for IT Service Management
Appendix 1: Sample SLA Between IT Services and Rocksolid Business Managers
Appendix 2: Sample OLA between IT Department and the Electrical Department
Appendix 3: Sample UC between RockSolid IT Services and ABC Computer Corp
Appendix 4: A Simple IT Service Management Flow with Interactions among Different Processes
Appendix 5: The ITIL Glossary
Appendix 6: ITSM Books and other Resources