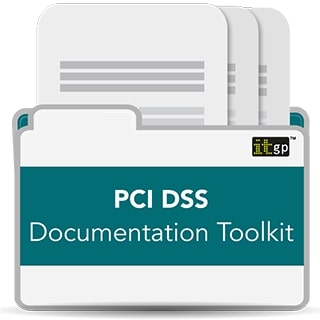 PCI DSS Documentation Toolkit
Details
SKU: 5364
Format: Toolkit
ISBN13: 9781787781214
BIC: BUSINESS & MANAGEMENT, Banking law
BISAC: BUSINESS & ECONOMICS / Management, LAW / Banking
Published: 15 Oct 2019
Availability: In Stock

Description
Take advantage of expert PCI QSA guidance to accelerate your PCI DSS compliance project.
All organisations that process, transmit or store credit/debit card data are legally obliged to comply with the Payment Card Industry Data Security Standard (PCI DSS). Compliance will in turn protect their brand from potential commercial damage and the loss of merchant facilities.
This PCI DSS v3.2.1 toolkit has been specifically designed to help payment card-accepting organisations ('merchants') become compliant with the PCI DSS.
Compliance with the PCI DSS can be challenging, but with this toolkit you'll have the direction and tools at hand to streamline your project. This toolkit contains all the expert guidance, advice and fully customisable documentation templates you will need to accelerate your PCI DSS project. With this toolkit, you can:
become your own expert with professional guidance while saving time and avoiding mistakes
work from PCI DSS v3.2.1-compliant documentation that you can be sure is accurate and aligned with the Standard
embed the documentation into your organisation quickly and easily by using the pre-formatted templates
The toolkit gives you all the policies and documentation that you need, and includes useful tools and guidance, including:
PCI DSS Document Dashboard
PCI DSS Gap Analysis Tool
Roles and Responsibilities Matrix
Guidance on scoping and encryption key management
Accelerate your PCI DSS project using this toolkit. Buy today for immediate download. 
Table Of Contents
Top Level Documents
PCI Guidelines
Using the Toolkit Guide
Copyright Licence
User Input Worksheet
PCI DSS Policies, Forms and Records
Policies
PCI DSS Charter
PCI DSS Compliance Programme
Operational Security Policy Statement
Information Security Policy
Firewall and Router Policy
System Configuration Policy
Inventory and Ownership of Assets
Data Retention and Disposal Policy
Cryptographic Key Management
Cardholder Data Policy Statement
Anti-Malware Policy
Vulnerability Management Policy
Application and System Development Software
Access Control Policy
Network Access Control Policy
User Access Management
Password Policy Statement
Physical Security Policy Statement
Systems Monitoring Policy
Testing Systems and Processes
Pen Testing Methodology Work Instruction
Information Security Responsibilities Policy Statement
Managing Service Providers
Policy Statement [Technology] Usage Policy
Staff Training Programme
Responding to Information Security Incidents
Operational Security Programme
Forms
Change Request Form
Inventory Template
Cryptographic Key Custodian Acceptance Form
Individual User Agreement
Pen Test Log Sheet
Pen Test Report Evaluation Checklist
Risk Treatment Plan
List of Service Providers
Shared Responsibility Matrix
ISMS Documents
Protection and Control of Documentation
Internet Acceptable Use Policy
Rules for Use of Email
Information Security Classification Guidelines
Username Administration Work Instruction
Control of Records
Project Tools
Clause Mapping Tool - PCI DSS v3.2.1 vs ISO 27001:2013
Documentation Analysis Tool
Elearning Licenses (x2)
Gap Analysis Tool
Encryption Key Management Guidance
PCI DSS Document Dashboard
Roles and Responsibilities Matrix
Scoping Guidance
PCI DSS Additional Information
Useful Links and Additional Information
PCI DSS: SAQ, ROC & Prioritized Approach
Blank Templates
Basic Checklist Template
Basic Meeting Agenda Template
Basic Meeting Agenda: Initial Board Meeting
Basic Meeting Agenda: Second Board Meeting
Basic Meeting Minutes Template
Basic Meeting Minutes: Initial Board Meeting
Basic Meeting Minutes: Second Board Meeting
Basic Procedure Template
Basic Schedule Template
Basic Service Level Agreement Template
Basic Work Instruction Template
Reviews