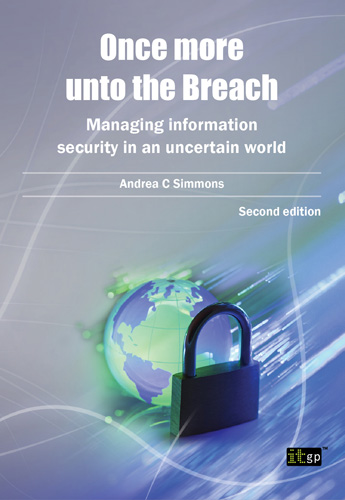 Once more unto the Breach - Managing information security in an uncertain world
Details
SKU: 3901
Format: Softcover
ISBN13: 9781849287081
BIC: COMPUTER SECURITY, COMPUTING: GENERAL
BISAC: COMPUTERS / Security / General, COMPUTERS / General
Pages: 244
Published: 05 Feb 2015
Availability: In Stock

Description
The challenges you face as an information security manager (ISM) have increased enormously since the first edition of Once more unto the Breach was published.
What seemed exceptional in 2011 is the norm in 2015 - vulnerabilities have been experienced across all operating systems, millions of individuals have been affected by data breaches, and countless well-known companies have fallen victim to cyber attack. 
It's your duty to ensure that your organisation isn't next 
In this revised edition of Once more unto the Breach, Andrea C Simmons uses her extensive experience to provide an important insight into the changing role and responsibilities of the ISM, walking you through a typical ISM's year and using the role of projec manager on a programme of change to highlight the various incidents and issues that arise on an almost daily basis - and often go unnoticed. You'll also discover the importance of having a camera with you at all times.
For too long, security has been seen as more of an inhibitor than an enabler. Once more unto the Breach is an invaluable resource that will help you improve this perception, and achieve better overall information protection as a result. 
Boost your career as an information security manager with essential advice from expert Andrea Simmons. Buy your copy today.
Reviews
Table of contents
1: August: Pulling a team together
2: September: Street trash
3: October: Compliance may be only skin deep
4: November: How remote is remote?
5: December: Oh, for the sake of yet another proposal
6: January: A battle won
7: February: Money doesn't buy happiness
8: March: Slipping through the net
9: April: Linking InfoSec with InfoGov
10: May: Politics and management
11: June: What he auditors shouldn't know
12: July: Journey's end ... and conclusion