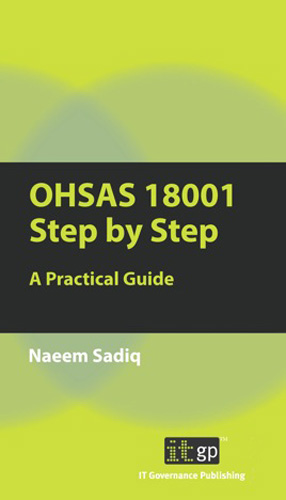 OHSAS 18001 Step by Step - A Practical Guide
Details
SKU: 3826
Format: Softcover
ISBN13: 9781849283625
BIC: Occupational / industrial health & safety, Occupational health & safety law
BISAC: TECHNOLOGY & ENGINEERING / Industrial Health & Safety
Pages: 144
Published: 26 Apr 2012
Availability: In Stock

Description
In this introduction to OHSAS 18001, author Naeem Sadiq takes the complex, and often impenetrable, concepts that surround health and safety and presents them with absolute precision and clarity.
Using a wide variety of fictional scenarios, the author discusses the hazards that might be present in a workplace, how to assess risk, how to manage OHSAS 18001 implementation and how to communicate its implementation through all levels of management.
OHSAS 18001: Step by Step gives the reader a sound understanding of OHSAS 18001, and can also be used as a step-by-step instruction manual for anyone tasked with implementing operational health and safety standards in the workplace.
Buy this guide today and learn how to set up an effective health and safety management system based on OHSAS18001.
Reviews
Table Of Contents
1: What is OHSAS 18001?
2: OH&S Management System General Requirements (Clause 4.1)
3: Occupational Health and Safety Policy (Clause 4.2)
4: Hazard Identification, Risk Assessment and Determination of Controls (Clause 4.3.1)
5: Legal and Other Requirements (Clause 4.3.2)
6: Objectives and Programme(s) (Clause 4.3.3)
7: Resources, Roles, Responsibility, Accountability and Authority (Clause 4.4.1)
8: Competence, Training and Awareness (Clause 4.4.2)
9: Communication, Participation and Consultation (Clause 4.4.3)
10: Documentation and Control of Documents (Clause 4.4.4 and 4.4.5)
11: Operational Controls (Clause 4.4.6)
12: Emergency Preparedness and Response (Clause 4.4.7)
13: Performance Measurement, Monitoring and Evaluation of Compliance (Clause 4.5.1 and 4.5.2)
14: Incident Investigation, Non- Conformity, Corrective and Preventive Action (Clause 4.5.3)
15: Control of Records (Clause 4.5.4)
16: Internal Audit (Clause 4.5.5)
17: Management Review (Clause 4.6)
Appendix A: Sample Procedure for OH&S Hazard Identification, Risk Assessment and Determination of Controls
Appendix B: OH&S Hazard and Risk Register
Appendix C: Types of OH&S Hazards
Appendix D: Sample Procedure for Training Competence and Awareness
Appendix E: Documents Required by OHSAS 18001
Appendix F: Sample Procedure for Critical Pressure Equipment (CPE)
Appendix G: Sample Procedure for 'Permit to Work'
Appendix H: Sample Procedure for Fork-lift Trucks
Appendix I: Sample Format for a Non- Conformity Report (NCR)
Appendix J: Sample Format for OH&S Record Control
Appendix K: Sample Input Report for OH&S Management System Review