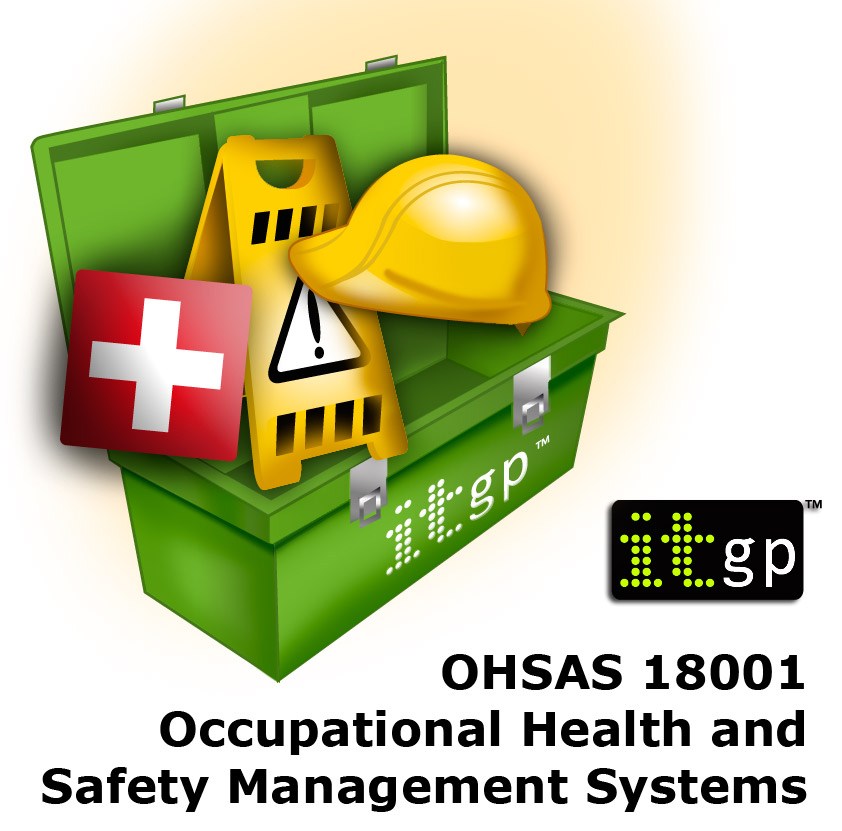 OHSAS 18001 Occupational Health & Safety Toolkit
Details
SKU: 3302
Format: Toolkit
ISBN13: 9781849286534
BIC: Occupational / industrial health & safety, Health & safety aspects of computing
BISAC: TECHNOLOGY & ENGINEERING / Industrial Health & Safety, COMPUTERS / Social Aspects / General
Published: 04 Jan 2010
Availability: In Stock

Description
Organisations are implementing Occupational Health and Safety Management Systems (OHSMS) as part of their risk management strategy to address changing legislation and protect their workforce. An OHSMS provides a framework that allows an organisation to identify and control health and safety risks, reduce the potential for accidents and aid legislative compliance.
The internationally recognised assessment specification for occupational health and safety management systems is OHSAS18001. This can be adopted by any organisation wishing to implement a formal procedure.
The documents in this OHSAS18001 Toolkit are specifically designed for use by organisations seeking to comply with the requirements of OHSAS18001. These policies and procedures are all compatible with ISO27001 and other toolkits within the IT Governance toolkit suite.
OHSAS18001 documents contained in this unique toolkit include:
OHSAS 18001 Health & Safety Manual 
Hazard Identification, Risk Assessment and Controls
Emergency Preparedness
Legislation & Regulation
Evacuation and Emergency Response
Risk Assessment Record
Health and Safety Checks
Make sure this toolkit is right for your organisation. Download free samples with a free demo! Download now
The OHSAS 18001 Toolkit contains document templates specifically designed for organisations seeking to comply with the requirements of OHSAS 18001. Buy today and kick-start your journey to compliance.
Table Of Contents
Top level documents
OHSAS 18001 Health & Safety Manual
HSMS Copyright Licence
Quick Start Guide
Project Tools
HSMS Roles and Responsibilities Matrix
OHSAS 18001 Documentation Dashboard
Document Reference vs OHSAS 18001 Requirement
Policies and Procedures folder
Eye Care Policy HSMS DOC 4.2A
Driving Policy HSMS DOC 4.2B
Sickness and Ill Health Policy HSMS DOC 4.2C
Hazard Identification, Risk Assessment and Controls HSMS DOC 4.3.1
Legislation & Regulation HSMS DOC 4.3.2
Objectives, Targets and Programmes HSMS DOC 4.3.3
Training and Development HSMS DOC 4.4.2A
New Starters HSMS DOC 4.4.2B
Communication HSMS DOC 4.4.3.1
Consultation and Participation HSMS DOC 4.4.3.2
Document Control HSMS DOC 4.4.4
Operational Control HSMS DOC 4.4.6
Emergency Preparedness HSMS DOC 4.4.7
Control of Non Conformance HSMS DOC 4.5.3
Incidents HSMS DOC 4.5.3.1
Corrective and Preventive Action HSMS DOC 4.5.3.2
Record Control HSMS DOC 4.5.4
Internal Audit HSMS DOC 4.5.5
Management Review HSMS DOC 4.6

Work Instructions
Permit to Work HSMS DOC 4.3.1A
Driving HSMS DOC 4.3.1B
Equipment Maintenance HSMS DOC 4.3.1C
Vehicle Checks HSMS DOC 4.3.1D
VDU Assessments HSMS DOC 4.3.1E
Manual Handling HSMS DOC 4.3.1F
Absence Reporting and Return to Work HSMS DOC 4.5.1A
Safety Checks HSMS DOC 4.5.1B
Evacuation and Emergency Response HSMS DOC 4.4.7A
Terrorist Response HSMS DOC 4.4.7B
Forms and Records folder
Risk Assessment Record HSMS REC 4.3.1
Health and Safety Checks HSMS REC 4.3.1A
Driving License Check Form HSMS REC 4.3.1B
Equipment Maintenance Schedule HSMS REC 4.3.1C
Vehicle Checklist HSMS REC 4.3.1D
DSE User Checklist HSMS REC 4.3.1E
Legislation, Regulation and Other Requirements HSMS REC 4.3.2
Objectives Programme Form HSMS REC 4.3.3
Job Description HSMS REC 4.4.2A
Induction Checklist HSMS REC 4.4.2B
Training Record HSMS REC 4.4.2C
Training Matrix HSMS REC 4.4.2D
Communications Register HSMS REC 4.4.3.1
Master List of Procedures HSMS REC 4.4.4
Sickness Self-Certificate HSMS REC 4.5.1
Absence Record HSMS REC 4.5.1A
Non Conformance Report HSMS REC 4.5.3A
Non Conformance Report Log HSMS REC 4.5.3B
Preventive and Corrective Action Report HSMS REC 4.5.3.2A
Master List of Records HSMS REC 4.5.4
Audit Schedule HSMS REC 4.5.5A
Internal Audit Report Lead Sheet HSMS REC 4.5.5B
Management Review Record HSMS REC 4.6
Reviews