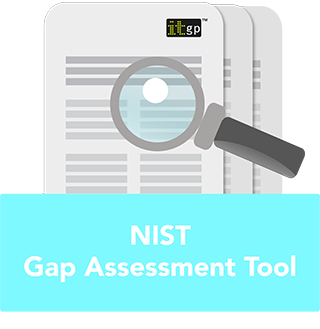 Details
SKU: 5798
Format: Toolkit
ISBN13: 9781787783416
BIC: COMPUTER SECURITY, IT & Communications law, Criminal law & procedure
BISAC: LAW / Computer & Internet, COMPUTERS / Security / General, LAW / Communications, LAW / Criminal Law / General
Published: 16 Sep 2021
Availability: In Stock

Description
Get started with your NIST SP 800-171 compliance project
The U.S. DoD requires U.S. contractors and their subcontractors to have an available assessment of their compliance with NIST SP 800-171. As part of a national movement to have a consistent approach to cyber security across the U.S., even organisations that store, process or transmit unclassified and/or sensitive information must complete an assessment.
Our NIST Gap Assessment Tool provides the assessment template you need to guide you through compliance with the DoD's requirements for NIST SP 800-171. The tool lays out all 14 categories and 110 security controls from the Standard, in Excel format, so you can complete a full and easy-to-use assessment with concise data reporting.
---
What does the tool do?
Features the following tabs: 'Instructions', 'Summary' and 'Assessment and SSP'.
The 'Instructions' tab provides an easy explanation of how to use the tool and assess your compliance project, so you can complete the process without hassle.
The 'Assessment and SSP' tab shows all control numbers and requires you to complete your assessment of each control.
Once you have completed the full assessment, the 'Summary' tab provides high-level graphs for each category and overall completion. Analysis includes an overall compliance score and shows the amount of security controls that are completed, ongoing or not applied in your organisation.
The 'Summary' tab also provides clear direction for areas of development and how you should plan and prioritise your project effectively, so you can start the journey of providing a completed NIST SP 800-171 assessment to the U.S. DoD.
This NIST Gap Assessment Tool is not designed for conducting a detailed and granular compliance assessment. If you require specialist help in this area, please refer to our NIST SP 800-171 DoD Assessment service.
Reviews