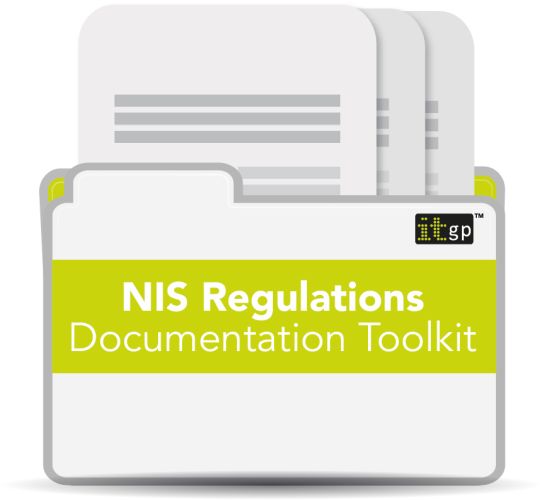 NIS Regulations Documentation Toolkit
Details
SKU: 4971
Format: Toolkit
ISBN13: 9781787780163
BIC: Network security, COMPUTER SECURITY, COMPUTING: GENERAL, COMPUTING & INFORMATION TECHNOLOGY
BISAC: COMPUTERS / Networking / General, COMPUTERS / Security / General, COMPUTERS / General, COMPUTERS / Security / Network Security
Published: 01 Aug 2018
Availability: In Stock

Description
The NIS Directive (Directive on security of network and information systems) aims to achieve a high, common level of network and information security across the EU. The Directive was transposed into UK law as the NIS Regulations (the Network and Information Systems Regulations 2018) on 10 May 2018. The NIS Regulations require OES (operators of essential services) and DSPs (digital service providers) to implement appropriate security measures to protect and ensure the continuity of services that are essential to the national infrastructure.
Our NIS Regulations Documentation toolkit has been created by expert information security specialists to help you demonstrate compliance with the NIS Regulations.
It will help you meet the 14 high-level principles developed by the NCSC (National Cyber Security Centre), and efficiently and accurately achieve compliance with the CAF (Cyber Assessment Framework).
Within this toolkit are more than 100 documents – including tools and templates – and a complete set of policies and procedures in Microsoft Word and Microsoft Excel formats, which will work in all Microsoft environments*, making the templates easy for you to customise to your business needs.
Make sure this toolkit is right for your organisation. Download free samples with a free demo! Download now
Accelerate your NIS Regulations compliance with this toolkit - buy today. 
*The toolkit includes automated macros that will not work on Macs or older versions of Office (Office 2007 or older). If this applies to you, please contact us on +44 (0)333 666 9000.
Table Of Contents
Top level documents:
Copyright licence
FAQs
Contents List
NIS Directive Manual
Quick Start Guide
UserInput
Blank templates
Checklist
Meeting Agenda
Meeting Agenda: Initial Board Meeting
Meeting Agenda: Second Board Meeting
Meeting Minutes
Meeting Minutes: Initial Board Meeting
Meeting Minutes: Second Board Meeting
Procedure
Schedule
Service Level Agreement
Work Instruction
A1 – Governance
Identification of Interested Parties Procedure
Interested Parties Record
Scope Statement
Information Security Policy
Roles & Responsibility Document Management Tool
Information Security Objectives and Planning
Information Security Objectives Record
Information Security Manager Job Description
Head of Risk Job Description
Chief Information Security Officer Job Description
A2 – Risk Management
Business Impact Analysis Procedure
Business Impact Analysis Tool
Risk Management
Risk Management Framework
Risk Assessment Procedure
Risk Assessment Tool
Risk Treatment Plan Template

A3 – Asset Management
Inventory and Ownership of Assets
Internet Acceptable Use Policy
Rules for Use of Email
Information Security Classification Guidelines
Media and Information Handling Procedure
Control of Operational Software
Inventory of Information Assets
E-Commerce and Online Transactions
Secure Development Policy
A4 – Supply Chain
Information Security Policy for Supplier Relationships
Managing Third Party Service Contracts
External Parties: Information Security Procedure
Schedule of Authorities and Key Suppliers
B1 – Service Protection
Personnel Screening Procedure
Employee Termination Work Instruction
Termination Checklist
B2 – Identity & Access Control
Access Control Policy
Access Control Rules and Rights
Individual User Agreement
User Access Management
Username Administration Work Instruction
Secure Log-On, Session Time-Out and Sensitive System Isolation
Use of Privileged System Utilities
Physical Entry Controls and Secure Areas
Physical Security Work Instruction
Equipment Security
Physical Perimeter Security Checklist
B3 – Data Security
Cryptographic Key Management
Schedule of Required Cryptographic Controls
Controls Against Malicious Code Procedure
Control of Software Installation
Log of Information Assets for Removal
Removal Offsite of Information Security Assets
Secure Disposal of Storage Media
B4 – System Security
System Planning and Acceptance
Rules for Operational, Test and Development Environments Procedure
Vulnerability Management
Network Controls and Services
Network Access Control Procedure
B5 – Resilient Networks & Systems
Backup Procedures
Information Security Continuity Planning
Information Security Continuity Plan
Testing, Maintaining and Reassessing Information Security Continuity Plans
B6 – Staff Awareness & Training
Competence Procedure
Training and Development Procedure
Awareness Procedure
Competence Matrix
Training Record
C1 – Security Monitoring
Information Security Monitoring Procedure
Change Control Procedure
Systems Auditing Procedure
Change Request
Schedule of Administrator and Operator Log Events
Internal Audit Procedure
Monitoring and Measurement Register
Internal Audit Schedule
Internal Audit Report Lead Sheet
C2 – Anomaly Detection
Threat and IOC Register Procedure
Register of Threats and IOCs
D1 – Response & Recovery Planning
Business Continuity/Incident Management Plan
Incident Response Plan Template
Reporting the Information Security Weaknesses and Events
Responding to Information Security Reports
Collection of Evidence
Incident Log
Information Security Weaknesses and Events Checklist
D2 – Improvements
Compliance and Compliance Checking Procedure
Nonconformity and Corrective Action
Continual Improvement Procedure
Corrective Action Report
Non-Conformance Report
Non-Conformance Report Log
Reviews