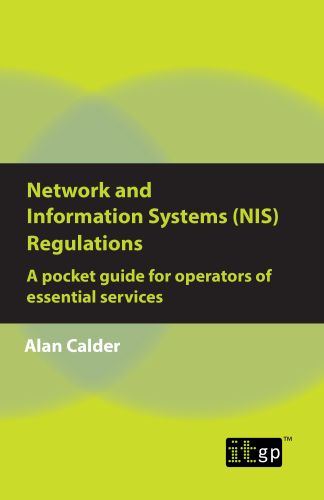 Network and Information Systems (NIS) Regulations - A pocket guide for operators of essential services
Details
SKU: 4988
Format: Softcover
ISBN13: 9781787780521
BIC: Network security, COMPUTER SECURITY, Privacy & data protection, COMPUTING: GENERAL, COMPUTING & INFORMATION TECHNOLOGY
BISAC: COMPUTERS / Security / General, COMPUTERS / General, COMPUTERS / Security / Network Security
Pages: 88
Published: 01 Nov 2018
Availability: In Stock

Description
This pocket guide is a primer for any OES (operators of essential services) that needs to comply with the NIS Regulations, and explores who they are, and why the NIS Regulations are different for them.
An introduction to the new NIS Regulations 2018 that bring the EU's NIS Directive and Implementing Regulation into UK law.
This guide outlines the requirements for operators of essential services based on the Cyber Assessment Framework established by the National Cyber Security Centre (NCSC), including an explanation of the objectives, principles and indicators of good practice, and offers implementation guidance.
This guide will help you:
Understand how to comply with NIS Regulations, and avoid penalties associated with non-compliance
Unravel the key definitions, authorities and points of contact
Learn the benefits of a good Cyber Resilience plan
Interpret and ensure compliance with the Cyber Assessment Framework
Establish the NCSC's cyber security objectives, principles and indicators of good practice
Your essential guide to understanding the NIS Regulations – buy this book today and get the help and guidance you need.
Reviews
Table of contents
Introduction
1. Scope and applicability
2. Authorities and bodies
3. Complying with the Directive
4. Implementing cyber resilience
Appendix: OES definitions and thresholds