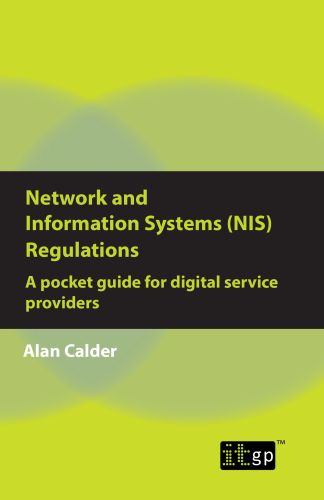 Network and Information Systems (NIS) Regulations - A pocket guide for digital service providers
Details
SKU: 4987
Format: Softcover
ISBN13: 9781787780484
BIC: Network security, COMPUTER SECURITY, Privacy & data protection, COMPUTING: GENERAL, COMPUTING & INFORMATION TECHNOLOGY
BISAC: COMPUTERS / Security / General, COMPUTERS / General, COMPUTERS / Security / Network Security
Pages: 86
Published: 01 Nov 2018
Availability: In Stock

Description
This pocket guide is a primer for any DSPs (digital service providers) that needs to comply with the NIS Regulations, and explores who they are, and why the NIS Regulations are different for them.
An introduction to the new NIS Regulations 2018 that bring the EU's NIS Directive and Implementing Regulation into UK law.  
This guide outlines the key requirements, details exactly which digital service providers are within scope, and explains how the security objectives from ENISA's Technical Guidelines and international standards can help DSPs achieve compliance.
This guide will help you:
Clarify how to identify if you are within the scope of the NIS Regulations
Gain an insight into the NIS Directive
Unravel the key definitions, authorities and points of contact
Understand the benefits of a good cyber resilience plan
Your essential guide to understanding the NIS Regulations – buy this book today and get the help and guidance you need.
Reviews
Table of contents
Introduction
1. Scope and applicability
2. Authorities and bodies
3. Complying with the Directive
4. Implementing cyber resilience
Appendix. Mapping of ENISA's Technical Guidelines and ISO 27001 Annex A