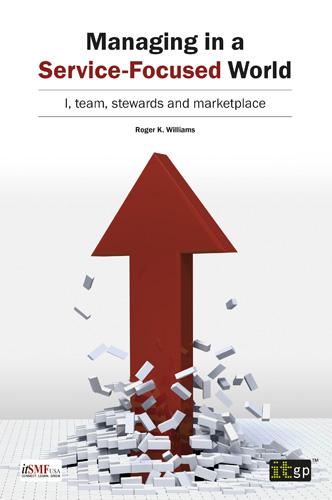 Managing in a Service-Focused World - I, team, stewards and marketplace
Details
SKU: 4515
Format: Softcover
ISBN13: 9781849286848
BIC: COMPUTING & INFORMATION TECHNOLOGY
BISAC: COMPUTERS / General
Pages: 168
Published: 21 Aug 2014
Availability: In Stock

Description
The transition from individual contributor to manager is arguably the hardest career change to make. It can be overwhelming, and there is plenty of bad advice around that will only make things worse. The process is often unpredictable, chaotic and unstructured. But what if new managers had a framework to plan their personal and professional progress? Thanks to the innovative approach in this book, they now do.
In Managing in a Service-focused World, Roger K. Williams adapts tried and trusted principles of IT service management (ITSM) into a framework for personal and professional development. He treats management as a service, presenting the idea that the effectiveness of a manager is best judged by the views of the key stakeholders: the manager themselves, their team, their leaders and their customers.
The book lets you quickly appreciate and apply the ideas in a way that engages staff at all levels and gives tangible benefits to all stakeholders. The book takes its examples from IT service management, but the clear and direct style means that managers in any industry can understand and implement the ideas. With this book, you can:
create a personal development plan that will help you improve your management skills

understand how to work with your team to get keep them engaged and working effectively

increase your own professional standing

work better with customers and external stakeholders, resulting in better, mutually beneficial relationships.
Read this book and transform your management career with the principles of ITSM.
Reviews
Table of contents
Introduction: Management as a Service
Part I: Personal Effectiveness
1: Leveraging Strategy Generation for  a Personal Success Strategy
2: Using Design Coordination for Your Personal Services
3: Building Your Service Knowledge Management System
4: Simplify Your Communications With Event Management
5: Applying Continual Service Improvement to Your Learning
Part II: Effectiveness with Your Team
6: Using Business Relationship Management Thinking to Form a Great Team
7: Building Your Team's Service Catalog
8: Maintaining Team Assets Through Effective Configuration and Change
9: Streamlining Team Workflow With Request Fulfillment
10: Improving Team Performance With Monitor Control Loops
Part III: Effectiveness with Leaders
11: Applying Service Portfolio Thinking to Influence Leaders
12: Negotiating What is Expected of You Leveraging Service Level Management
13: Keeping Your Leaders Well Informed Using Transition Planning and Support
14: Make Your Leaders' Lives Easier Through Strong Problem Management
15: Measuring Your Way to Continual Success
Part IV: Effectiveness with the Marketplace
16: Get to Know Your Customers With Demand Management Thinking
17: Identifying Underlying Customer Needs Using the ITIL Warranty Processes
18: Managing Projects Using Release Management Principles
19: Helping Your Customers When Things Go Wrong
20: Assessing Performance To Prepare for Improvement