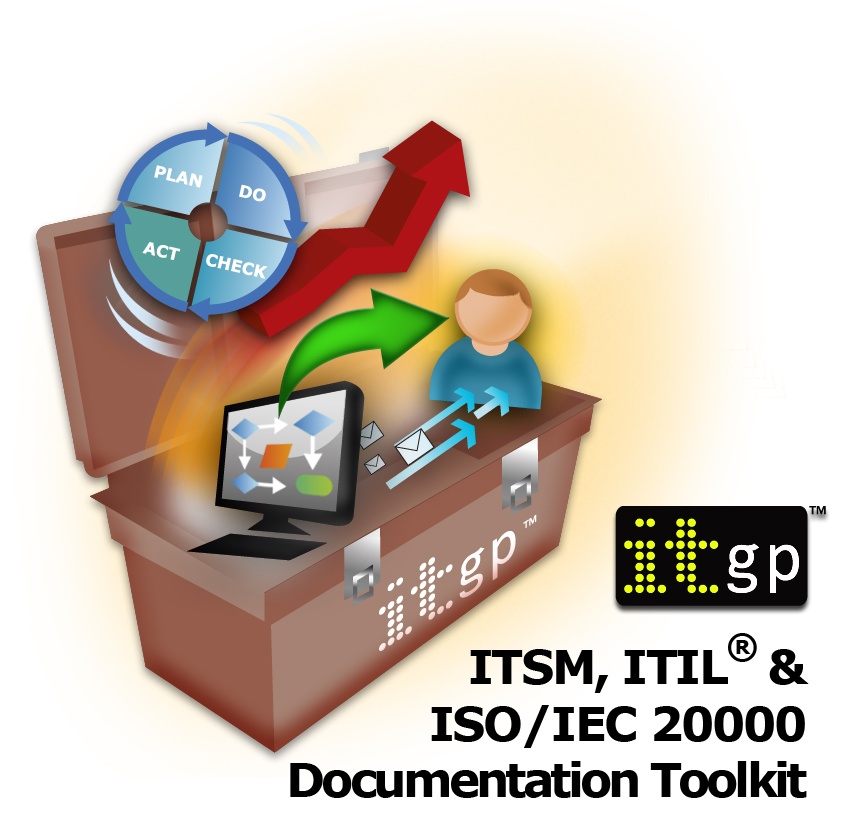 ITSM, ITIL & ISO20000 Implementation Toolkit
Details
SKU: 3381
Format: Toolkit
ISBN13: 9781849286466
BIC: COMPUTING & INFORMATION TECHNOLOGY, COMPUTING: GENERAL
BISAC: COMPUTERS / Online Services, COMPUTERS / General
Published: 01 Aug 2011
Availability: In Stock

Description
Organisations implementing business and IT service management want a trouble-free, rapid-deployment approach that will maximise benefits and minimise delays and costs. Effective management, process and procedure documentation is essential to achieving those results.
The ITSM, ITIL® & ISO/IEC 20000 Implementation Toolkit has been designed by service management gurus Shirley Lacy and Jenny Dugmore to help organisations improve IT service management (ITSM), adopt ITIL® best practices, and achieve ISO20000 certification.
It is completely up to date with the latest editions of ITIL® and ISO20000, and makes administration and branding simple with its integrated dashboard, easy customisation of templates and one-click formatting.
The implementation and improvement documents contained in the ITSM, ITIL® & ISO/IEC 20000 Implementation Toolkit include:
IT SMS Overview, including what ISO/IEC 20000 is (project / staff training slides).
Model Service Management Policy.
Implementation and improvement tools.
Pre-written Service Management System Manual.
Service Management Plan Template.
Service Level Agreement Template.
100 pre-written policies, procedures, templates and guidance.
Gap analysis/ISO/IEC 20000-1 Assessment tool.
Guidance on how ITIL® best practices support the ISO/IEC 20000-1:2011 requirements.
The value of the ITSM, ITIL® & ISO/IEC 20000 Implementation Toolkit comes from its complete set of tools and documentation templates, policies and procedures that will enable an organisation to assess its current level of service management and then implement processes to deliver better services.
The toolkit will be particularly useful to:
Organisations that must deliver quality services whilst meeting governance, regulatory and legal requirements.
Organisations that can benefit from improved services and service management.
Managers, consultants and implementers that want a quick and effective approach to setting up, implementing and improving service management.
Assessors and auditors who are to review or audit a service management capability or service management system against the requirements of ISO/IEC 20000-1.
People involved in procuring, in sourcing or outsourcing services.
Projects that need to deliver IT enabled services underpinned by effective service management.
Users of ISO/IEC 20000-5 that need to understand the implementation requirements of the 2011 edition of ISO/IEC 20000-1.
Make sure this toolkit is right for your organisation. Download free samples with a free demo! Download now
Download this toolkit and deploy IT service management (ITSM) best practice quickly and cost-effectively with expert guidance.
Table Of Contents
Blank Templates
Guidance on templates - how the SMS document templates have been written
Basic Meeting Agenda Template
Contact List
Contact Map
Procedure Template
Process RACI Template
Process Template

Project Tools
Documentation Task Manager
SMS Dashboard
Document Responsibilities Manager
Gap Analysis and Audit Checklist Tool (Excel)
Gap Analysis and Audit Checklist Tool (Word)
SMS Overview
Project Implementation Plan

Concepts and Terms
Glossary (SMS DOC 3.1)

SMS 4 – SMS General
Scope, Definition and Applicability Guidance (SMS 40.0A)
Organising for Service Management Guidance (SMS 40.0B)
Service Management Policy (SMS DOC 40.1)
CSI Policy (SMS DOC 40.2)
Change Management Policy (SMS DOC 40.3)
Information Security Policy (SMS DOC 40.4)

SMS 41 - Management Responsibility
Management Responsibility Guidance (SMS 41.0A)
Asset Register (SMS REC 41.1)
Risk Register (SMS REC 41.2)

SMS 42 - Governance of Processes Operated by Other Parties
Governance of Processes Guidance (SMS 42.0A)

SMS 43 - Documentation Management
Document Control Procedure (SMS DOC 43.1)
Control of Records Procedure (SMS DOC 43.2)
Retention of Records Procedure (SMS DOC 43.3)
Documentation Register (SMS REC 43.1)

SMS 44 - Resource Management
Guidance on Resource Management (SMS 44.0A)

SMS 45 - Establish and Improve the SMS
Service Management Plan Template (SMS REC 45.1)
CSI Register (SMS REC 45.2)

SMS 45A Plan and Set-up the SMS
Plan and Set-up the SMS Process (SMS DOC 45A.1)
Plan and Set-up the SMS RACI (SMS DOC 45A.2)
Plan and Set-up the SMS Procedure (SMS DOC 45A.3)

SMS 45B Implement and Operate the SMS
Implement and Operate the SMS Process (SMS DOC 45B.1)
Implement and Operate the SMS RACI (SMS DOC 45B.1)
Implement and Operate the SMS Procedure (SMS DOC 45B.3)

SMS 45C Monitor and Review the SMS
Monitor and Review the SMS Process (SMS DOC 45C.1)
Monitor and Review the SMS RACI (SMS DOC 45C.2)
Monitor and Review the SMS Procedure (SMS DOC 45C.3)
Internal Audit Procedure (SMS DOC 45C.4)
Management Review of Record (SMS REC 45C.3A)
Nonconformity Report Log (SMS REC 45C.3B)
Nonconformity Report (SMS REC 45C.3C)
Audit Schedule (SMS REC 45C.4A)
Internal Audit Report Lead Sheet (SMS REC 45C.4B)

SMS 45D Correct and Improve the SMS
Correct and Improve the SMS Process (SMS DOC 45D.1)
Correct and Improve the SMS RACI (SMS DOC 45D.2)
Correct and Improve the SMS Procedure (SMS DOC 45D.3)
Preventive and Corrective Action Report (SMS REC 45D.1)

SMS 5 - Design and Transition

Design and Transition Process (SMS DOC 50.1)
Design and Transition RACI (SMS DOC 50.2)
Design and Transition Procedure (SMS DOC 50.3)
Design and Transition Review (SMS REC 50.1) 

SMS 6 - Service Delivery

Service Level Management Process (SMS DOC 61.1)
Service Level Management RACI (SMS DOC 61.2)
Service Level Management Procedure (SMS DOC 61.3)
Service Catalogue (SMS REC 61.1)

SMS 62 Service Reporting
Service Reporting Process (SMS DOC 62.1)
Service Reporting RACI (SMS DOC 62.2)
Service Reporting Procedure (SMS DOC 62.3)
Service Report Design Checklist (SMS DOC 62.4)
Service Report Register (SMS REC 62.1)

SMS 63 Service Continuity and Availability
Service Continuity Process (SMS DOC 63A.1)
Service Continuity Management RACI (SMS DOC 63A.2)
Service Continuity Management Procedure (SMS DOC 63A.3)
Availability Management Process (SMS DOC 63B.1)
Availability Management RACI (SMS DOC 63B.2)
Availability Management Procedure (SMS DOC 63B.3)
Service Continuity Management Plan Template (SMS REC 63A.1)
Availability Management Plan Template (SMS REC 63B.1)

SMS 64 Budgeting and Accounting
Budgeting and Accounting Guidance (SMS 64.0A)
Budgeting and Accounting Process (SMS DOC 64.1)
Budgeting and Accounting RACI (SMS DOC 64.2)
Budgeting and Accounting Procedure (SMS DOC 64.3)

SMS 65 Capacity Management
Capacity Management Process (SMS DOC 65.1)
Capacity Management RACI (SMS DOC 65.2)
Capacity Management Procedure (SMS DOC 65.3)
Capacity Plan Template (SMS REC 65.1)

SMS 66 Information Security Management
Information Security Management Process (SMS DOC 66.1)
Information Security RACI (SMS DOC 66.2)
Information Security Management Procedure (SMS DOC 66.3)
Management Review of InfoSec Policy (SMS DOC 66.4)

SMS 7 - Relationship Management

Managing Service Contract and Agreements (SMS 70.0A)
Business Relationship Management Process (SMS DOC 71.1)
Business Relationship Management RACI (SMS DOC 71.2)
Business Relationship Management Procedure (SMS DOC 71.3)
Supplier Management Process (SMS DOC 72.1)
Supplier Management RACI (SMS DOC 72.2)
Supplier Management Procedure (SMS DOC 72.3)

SMS 8 - Resolution

Incident and Service Request Guidance (SMS 80.0A)
Problem Management Guidance (SMS 80.0B)

SMS 81A & 81B Incident Management
Incident Management Process (SMS DOC 81A.1)
Incident Management RACI (SMS DOC 81A.2)
Incident Management Procedure (SMS DOC 81A.3)
Major Incident Management Process (SMS DOC 81B.1)
Major Incident Management Procedure (SMS DOC 81B.3)
Incident Record (SMS REC 81A.1)
Major Incident Review Report (SMS REC 81B.1)

SMS 81C Service Request Management
Service Request Management Process (SMS DOC 81C.1)
Service Request Management RACI (SMS DOC 81C.2)
Service Request Management Procedure (SMS DOC 81C.3)
Service Request Record (SMS REC 81C.1)

SMS 82 Problem Management
Problem Management Process (SMS DOC 82.1)
Problem Management RACI (SMS DOC 82.2)
Problem Management Procedure (SMS DOC 82.3)
Problem Record (SMS REC 82.1)

SMS 9 - Control

SMS 91 Configuration Management
Configuration Management Process (SMS DOC 91.1)
Configuration Management RACI (SMS DOC 91.2)
Configuration Management Procedure (SMS DOC 91.3)
Configuration Management Plan (SMS REC 91.1)
Configuration Management Baseline Model (SMS REC 91.2)

SMS 92 Change Management
Change Management Process (SMS DOC 92.1)
Change Management RACI (SMS DOC 92.2)
Change Management Procedure (SMS DOC 92.3)
Change Request (SMS REC 92.1)

SMS 93 Release and Deployment
Release and Deployment Management Process (SMS DOC 93.1)
Release and Deployment Management Process (SMS DOC 93.2)
Release and Deployment Management Process (SMS DOC 93.3)
Release Policy Template (SMS REC 93.1)

Examples and Case Studies
Case Studies
Commercial Service Provider ISO/IEC 20000 Case Study
Human Resource Examples (QMS toolkit)
- Job Description (MSS REC 7.2.1)
- Induction Checklist (MSS REC 7.2.2)
- Training Record and Matrix (MSS REC 7.2.3)

Information Security Examples (ISMS toolkit)
- Risk Assessment Procedure (RM-ISMS DOC 6.1.2)
- Asset Inventory & Ownership (ISMS-C DOC 8.1.1)
- Storage Media Disposal (ISMS-C DOC 11.2.7)
- User Access Management (ISMS-C DOC 9.2.3)
- Individual User Agreement (ISMS-C DOC 9.2.1a)
- Collection of Evidence (ISMS-C DOC 16.1.7)
SMS 11 – SMS and ITIL Best Practice support
SLA and OLA Template – ITIL (SMS 11.0.61A) 
What is ITIL? (SMS 11.0.01)
How ITIL supports ISO/IEC 20000 (SMS 11.0.02)
Using ITIL to achieve ISO/IEC 20000 (SMS 11.0.03)
Adopting the ITIL service lifecycle (SMS 11.0.04)
Organising for Service Management Examples – ITIL (SMS 11.0.40)
Service Design Package Example (SMS 11.0.52B)
Service Acceptance Criteria Example (SMS 11.0.53A)
Incident Management Process Model Examples (SMS 11.0.81A)
Request Fulfillment Process Examples (SMS 11.0.81B)
Problem Management Process Model Example (SMS 11.0.82A)
Configuration Structure Model Examples (SMS 11.0.91A)
Change Management Process Model Examples (SMS 11.0.92A)
Change Management Authorisation Model Example (SMS 11.0.92B)
Reviews