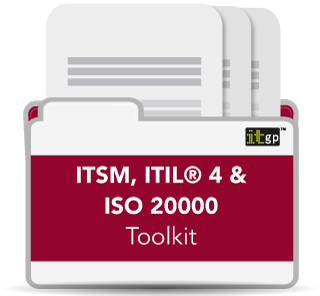 ITSM, ITIL 4 & ISO/IEC 20000 Toolkit
Details
SKU: 5503
Format: Cloud Annual Subscription
ISBN13: 9781787781900

Published: 01 Nov 2021
Availability: In Stock

ex vat
Annual subscription thereafter
£150.00
ex vat
Overview
How does our toolkit help you comply?
Maximise the benefits of implementing IT service management with a trouble-free, rapid deployment. With this AXELOS®-licensed toolkit, you will have all the direction and tools at hand to streamline your project and implement best practice with ease.
Discover where you sit on the compliance scale
Measure your existing arrangements with the SMS Gap Analysis Audit Checklist tool and identify the steps needed to implement your SMS and comply with ISO 20000.
Implement your SMS with ease
Kick-start your compliance project with the Implementation Plan tool, which will help you identify required actions and associated documents. You can also assign tasks and add target start and completion dates to stay on track.
Set customer and user expectations
Identify and collect all of your service offerings and record how they are or will be delivered using the Service catalogue.
Ensure your assets meet service requirements
Record any assets used to deliver services with the Asset register and ensure they meet the service requirements and obligations recorded in your service management plan.
Understand your risks and their impact on your services
Identify and monitor your organisation's risks and determine their likelihood and potential impact with the Risk register. You can then put in place the necessary policies and procedures to mitigate the risks and ensure services continue.
Meet your legal and contractual requirements
Record completion dates and ensure your documentation is kept up to date by adding review due dates with the Documentation Responsibilities Manager. You can also assign tasks and record once they've been approved.
---
Anytime access with DocumentKits
Access your templates anywhere, at any time through the online DocumentKits platform, ensuring your organisation can always access and edit the files, regardless of operating system.
Customise the toolkit with your company logo and automatically populate fields to speed up your documentation process.
Reduce duplication and effort by easily integrating your documentation with other toolkits in the DocumentKits platform. 
Tooltips and guidance notes provide definitions and expert instruction so you can easily complete the customisable free-text sections.
Easily extract files to PDF to save on shared servers, intranets or wherever you need them.
Collaborate with team members and share the workload with this Cloud-based platform, which includes access for up to ten users per year.
Unlimited support for account set-up and guidance using the DocumentKits platform. 
---
About the authors
Designed and developed by ITIL and ISO 20000 service management experts Shirley Lacy and Erin Casteel, this toolkit provides all the policies, procedures and tools to enable organisations to assess their current levels of service management and implement processes to deliver better quality services, while meeting regulatory and legal requirements.
Shirley Lacy has extensive experience helping organisations implement service management using a rapid deployment approach while minimising organisational delays and cost. This often leads to ISO/IEC 20000 certification and enables organisations to deliver value from their business and technology investments.
Shirley is an authority on service management practices and an author of ITIL publications. Since 2006, she has contributed to the development of the ISO/IEC 20000 series and is a UK representative on the international standards group that develops ISO/IEC 20000.
Erin Casteel is an ITIL 4 Lead Architect and author of the ITIL Foundation, ITIL 4 book. She is a specialist in service management and integration, organisational governance and cyber security. Erin is passionate about helping organisations build, run and improve integrated organisational ecosystems that enable increased agility, resilience and velocity, and create value. She is particularly focused on systems thinking, enterprise architecture and organisational culture to support digital transformation.
Since 2006, Erin has contributed to the development of ISO/IEC 20000, as Chair of the ISO/IEC working group and as an editor. She is also an editor and contributor to the ISO/IEC 27000 series of standards for information security management.
---
Why choose IT Governance Publishing?
Our ITSM, ITIL® 4 & ISO 20000 Toolkit has been developed by industry experts, so you can be sure your documentation is accurate and fully compliant.
Speed up your documentation process by adding your company logo and customising roles to automate input of common fields. 
Easily track and record progress for stakeholders.
Trust the experts and shop with confidence like the 9,000 organisations that are already using our toolkits..
ITIL® is a registered trade mark of AXELOS Limited. All rights reserved.
---
Companies that have purchased our toolkits
Benefits
Why choose the ITSM, ITIL® 4 & ISO 20000 Toolkit?
Comply without breaking the bank
A fast and cost-effective route to compliance without the added expense of consultancy.
Guaranteed compliance
Aligned to the clauses and controls of ISO 20000 to ensure complete coverage of the Standard.
Audit trail
Record actions and measure improvements for certification and audits.
Ongoing compliance
Our toolkit is the most comprehensive and up-to-date IT service management toolkit available.
Ensure you're on the right track
The toolkit manual guides you through each section of the Standard and links directly to the corresponding documents in the toolkit.
Achieve genuine compliance
Work from AXELOS-accredited documentation that will improve your processes and procedures.
What's included
ITSM, ITIL® 4 & ISO 20000 Toolkit contents
ISMS Manual
SMS Guidelines: Getting started with your ISMS
Checklist
Contact List
Contact Map
Meeting agenda
Meeting minutes
Procedure
Process
Process_RACI_Template
Work instruction
SMS Gap Analysis Audit Checklist
Documentation Responsibilities Manager
SMS Overview
SMS Task Manager
SMS Implementation Plan
Context of the Organisation
Identification of Interested Parties Procedure
Legislation and regulation record
Scope Statement
Service management policy
Guidance on organising for service management
Risk management
Risk register
Plan and set up the SMS process
Plan and set up the SMS RACI
Plan and set up the SMS procedure
Service management plan template
Guidance on resource management
Competence procedure
Hiring and new starters procedure
Training development procedure
Leavers process
Awareness procedure
Communication procedure
Protection and control of documentation
Knowledge management guidance
Competence matrix
Training record
Plan, implement and control operation of the SMS process
Plan, implement and control operation of the SMS RACI
Plan, implement and control operation of the SMS procedure
Plan the services process
Plan the services RACI
Plan the services procedure
Service catalogue
Asset register
Configuration management process
Configuration management RACI
Configuration management procedure
Configuration management plan
Configuration baseline model
Managing service contract and agreements guidance
Business relationship management process
Business relationship management RACI
Business relationship management procedure
Service level management process
Service level management RACI
Service level management procedure
Supplier management process
Supplier management RACI
Supplier management procedure
Budgeting and accounting guidance
Budgeting and accounting process
Budgeting and accounting RACI
Budgeting and accounting procedure
Capacity management process
Capacity management RACI
Capacity management procedure
Change management policy
Change management process
Change management RACI
Change management procedure
Change request form
Service design and transition process
Service design and transition review record
Service design and transition RACI
Service design and transition procedure
Release and deployment management process
Release and deployment management RACI
Release and deployment management procedure
Guidance on incident and service request management (refers to ITIL V3)
Incident management process
Incident report
Incident management RACI
Incident management procedure
Major incident management process
Major incident review report
Major incident management procedure
Service request management process
Service request management RACI
Service request management procedure
Service request report
Guidance on Problem management (refers to ITIL V3)
Problem management process
Problem management RACI
Problem management procedure
Problem report
Availability management process
Availability management RACI
Availability management procedure
Service continuity process
Service continuity management RACI
Service continuity management procedure
Information security management policy
Information security management process
Information security RACI
Information security management procedure
Measure and evaluate performance process
Measure and evaluate performance RACI
Measure and evaluate performance procedure
Monitoring and measurement register
Internal audit procedure
Internal audit schedule
Internal audit report lead sheet
Management review record
Service reporting Process
Service report register
Service reporting RACI
Service reporting procedure
Service reporting checklist
Nonconformity and corrective action
Corrective action report
Non-conformance report
Non-conformance report log
Correct and improve the SMS process
Correct and improve the SMS RACI
Correct and improve the SMS procedure
Continual improvement register
What is ITIL?
Using ITIL® and ISO/IEC 20000 together
Service Catalogue Management & ITIL 4 Dimensions Example
IT Asset Management & ITIL 4 Dimensions Example
Service Configuration Management & ITIL 4 Dimensions Example
Configuration Structure Models ITIL Examples
Relationship Management & ITIL 4 Dimensions Example
Service Level Management & ITIL 4 Dimensions Example
SLA and OLA template (ITIL V3)
Supplier Management & ITIL 4 Dimensions Example
Service Financial Management & ITIL 4 Dimensions Example
Change Control & ITIL 4 Dimensions Example
Change Management Process Model – ITIL Example
Change Management Authorisation Model (ITIL V3)
Release and Deployment Management & ITIL 4 Dimensions Example
Incident Management & ITIL 4 Dimensions Example
Incident Management Process Flow – ITIL Example
Service Request Management & ITIL 4 Dimensions Example
Request Fulfilment Process Model Example (ITIL V3)
Problem Management & ITIL 4 Dimensions Example
Problem Management Process Model ITIL Example
Service Continuity Management & ITIL 4 Dimensions Example
Information Security Management & ITIL 4 Dimensions Example
Technical & FAQs
Technical information
This is an annual subscription product; however you can cancel at any time. (T&Cs apply)
All our documentation toolkits are electronically fulfilled and accessible via DocumentKits, our online platform.
Your subscription includes access for up to ten users.
The DocumentKits platform is compatible with all devices, operating systems and applications.
You will need to use the latest version of your chosen web browser (e.g. Chrome, Edge, Firefox or Internet Explorer).
---
FAQs
The toolkit files are accessible via DocumentKits, our online platform, within which you can view and customise the templates in line with your organisation's policies, processes and procedures. Tools and documentation dashboards, where provided, will be in downloadable Excel format, and guidance documents are provided as downloadable PDFs. The customised toolkit documents can be downloaded in PDF format.
Our documentation toolkits are suitable for organisations of any type or size and in any sector, and contain the necessary documentation templates and tools for your implementation project. While some document templates may not initially be relevant within the scope of your project, they may prove valuable over time as your business grows.
You will be purchasing a single subscription to the toolkit for use in one organisation only. If you wish to use the toolkit in multiple companies, then please contact us here to discuss your requirements.
No. The toolkit is accessible via DocumentKits, our online platform, which runs in a web browser.
All documentation toolkits are electronically fulfilled. Once you purchase the toolkit, you will be taken to a web page and asked to enter some basic information about your organisation to allow the toolkit to be configured within DocumentKits. You will also receive an email with your username and temporary password, with details on how to access the system.
The toolkits are not an out-of-the-box solution; depending on your implementation project, you will need to add details to the templates that match what your company does and what it should be doing. Compliance, management systems and certification projects are complex and require a lot more work than just documentation, so this should be considered when purchasing a toolkit.
Our documentation toolkits provide a framework for documenting your compliance with standards and regulations, with content and guidance written by experts. You will need to ensure the templates are edited to truly reflect the nature of your business and the environment within which it operates.
Our sister company, IT Governance Ltd, offers a wide range of packaged solutions to help you as much, or as little, as you need.
Yes – please do!
Our toolkits contain free-text areas where you are prompted to customise the information according to your organisation's own policies, procedures and records.
We provide unlimited support to help you set up your account, add contributors and customise the templates.
Our support service does not extend to consultancy and implementation advice. If you would further support you can contact us to discuss your requirements.
As documentation toolkits cannot be physically returned, we are unable to offer refunds.
For more information, please see our terms and conditions.
---
End-User DocumentKits Agreement
If you are thinking about purchasing a toolkit, please click here to review the end-user licence agreement for DocumentKits.
For more information, visit our DocumentKits FAQ page.
Reviews