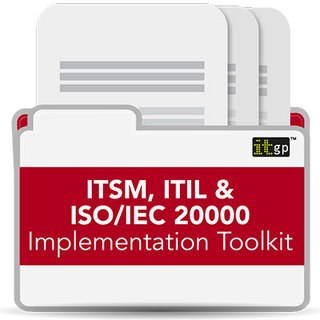 ITSM, ITIL 4 & ISO 20000 Toolkit
Details
SKU: 5315
Format: Toolkit
ISBN13: 9781787781153
BIC: COMPUTING: GENERAL, COMPUTING & INFORMATION TECHNOLOGY
BISAC: COMPUTERS / General, COMPUTERS / Internet / General
Published: 14 May 2020
Availability: In Stock

Description
The ITSM, ITIL 4 & ISO 20000 Toolkit
Effectively implement a service management system (SMS) that leads to greater effectiveness, efficiency and delivery of better services with this complete set of documentation templates, policies and procedures.
Helpful and comprehensive gap analysis, audit and project tools to ensure complete service management coverage
Accelerate your service management project with more than 150 customisable templates saving you time and money.
Direction and guidance from ITIL and ISO 20000 service management experts.
Organisations implementing IT service management want a trouble-free, rapid-deployment approach that will maximise benefits and minimise delays and costs. Effective management, process and procedure documentation is essential to achieving those results.
Adopting service management best practice and putting the appropriate processes and procedures in place within an organisation can be daunting. With this AXELOS licensed toolkit, you will have all the direction and tools at hand to streamline your project and complete it with ease.
Designed and developed by ITIL and ISO 20000 service management experts, Shirley Lacy and Erin Casteel, this toolkit provides all the policies, procedures and tools to enable organisations to assess their current levels of service management and implement processes to deliver better quality services, while meeting regulatory and legal requirements.
This toolkit is compatible with Office 2016, 2013, 2010. If you use one of these Office versions on a MAC, or are using an older version of Office, please contact us.

Why choose the ITSM, ITIL 4 & ISO 20000 Toolkit?
Save time and avoid mistakes with customisable templates developed by service management experts;
Work from AXELOS-accredited documentation that will improve your processes and procedures;
Embed the documentation in your organisation quickly and easily by using the pre-formatted templates; and
The most comprehensive and up-to-date ITSM toolkit available on the market.
 ITIL® is a registered trade mark of AXELOS Limited. All rights reserved.
Reviews