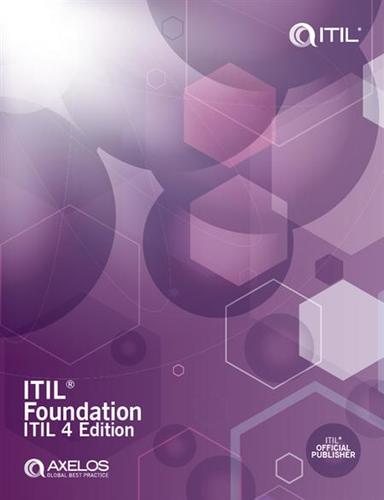 ITIL Foundation, ITIL 4 Edition
Details
SKU: 5302
Format: Softcover
ISBN13: 9780113316076
BIC: COMPUTING: GENERAL, COMPUTING & INFORMATION TECHNOLOGY
BISAC: COMPUTERS / General
Pages: 212
Published: 18 Feb 2019
Availability: Out Of Stock

Description
The official guide to passing your ITIL® 4 Foundation Exam.
Publishing 18 February 2019.
Pre-order your copy today and enter discount code ITIL4PRE at the checkout to save 10%. 
ITIL links best practices of ITSM (IT Service Management), and a wide body of knowledge with training and certification. ITIL 4 has grown from ITIL V3, reshaping ITSM practices involving customer experience, value streams and digital transformation. It also brings in new ways of working such as Lean, Agile and DevOps.
The first ITIL 4 publication provides you with the latest evolution of the most widely adopted guidance for ITSM.
Benefits
ITIL® Foundation – ITIL 4 Edition will help you to:
Understand how to address new service management challenges and how to unlock the potential of modern technology in any organisation;
Study for the ITIL 4 Foundation Exam; and
Work towards your professional development as the publication serves as a reference guide for practitioners to use.
Key Features
Covers key concepts of service management, the four dimensions of service management, the ITIL service value system and ITIL management practices.
Helps readers to understand the ITIL 4 Service Management Framework and how it has grown to utilise modern technologies and new ways of working.
Adapted and adopted in all types of organisations and services.
Gives clear examples of how ITIL 4 can be applied in practice.
Pre-order now to be one of the first to receive the ITIL® Foundation – ITIL 4 Edition.
Reviews