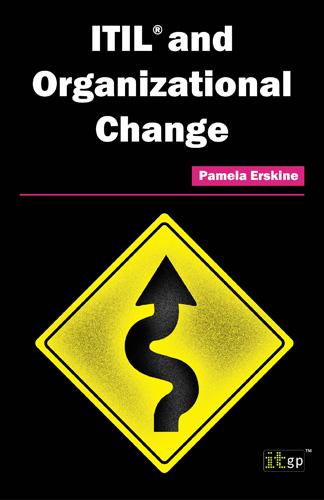 ITIL and Organizational Change
Details
SKU: 4174
Format: Softcover
ISBN13: 9781849284226
BIC: Project management, BUSINESS & MANAGEMENT, Management & management techniques, COMPUTING: GENERAL
BISAC: BUSINESS & ECONOMICS / Project Management, BUSINESS & ECONOMICS / Management, COMPUTERS / General, COMPUTERS / Business & Productivity Software / Project Management Tools
Pages: 138
Published: 07 Mar 2013
Availability: In Stock

Description
Organisational change is difficult to manage and takes time to implement. The way it is handled has a direct impact on its success. The adoption of ITIL can be particularly difficult, especially where it represents a radical change. How do you ensure that the process goes smoothly and offers a return on your investment?
In ITIL® and Organizational Change, Pamela Erskine analyses some of the reasons why organisations fail to realise the benefits of ITIL and offers practical ways to avoid these pitfalls. Drawing on her many years of experience, Pamela discusses five different models of organisational change and explains how to select the most suitable approach for your project and your organisation. Real-life examples bring the theories to life.
This book will enable you to understand why some employees are resistant to change and how to minimise and overcome that resistance. Obtaining staff buy-in is crucial: if you do it right, you will see morale increase and relationships improve across the organisation. By focusing on the right projects and tasks, increased productivity and profitability will result. You will understand how effective change management lowers costs and brings a higher return on investment, as the services provided will be perfect for the needs of the business and disruption will be kept to a minimum.
Change is unavoidable. Learn how to manage it successfully with this essential guidance.
Reviews
Table of contents
1: How was Organizational Change Addressed during the Project?
2: Organizational Change
3: Organizational Change Models
4: Selecting a Change Model
5: Accountability
6: Planning
7: Important Roles
8: Realizing the Benefits after the Fact
9: Additional Guidance