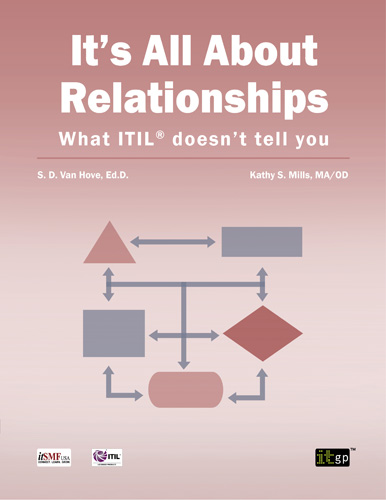 It's All About Relationships - What ITIL® doesn't tell you
Details
SKU: 4249
Format: Softcover
ISBN13: 9781849284844
BIC: COMPUTING: GENERAL
BISAC: COMPUTERS / General
Pages: 178
Published: 02 Jul 2013
Availability: In Stock

Description
… Service managers globally will want this book on their desk as a reference when designing processes and as THE 'go to' guide during their daily work ... 
Chris Evans, ITSM Specialist
As more companies begin an adopt/adapt initiative based on ITIL guidance, they are looking to mature not only their processes but also their services. They quickly realise they can't just look at a single process. They have to look at the relationships between the processes, understanding upstream and downstream impacts in order to fully benefit from the framework. This information hasn't been readily available … until now!
It's All about Relationships: What ITIL® doesn't tell you, is a co-publication with itSMF USA and is the third book in the Thought Leadership Series. Providing a view into the vital relationships between the ITIL lifecycle stages, this unrivalled publication provides invaluable guidance that no service manager should be without. 
The authors bring together their extensive practical experience to provide a guide intended for IT professionals, ITSM practitioners, Service Owners and Process Owners, and university students; or in fact anyone working to adopt the ITIL framework or needing a deeper understanding of its interfaces.
Suzanne's and Kathy's knowledge and attention to detail shine through in the very high quality of this publication. No doubt you will find it indispensable and in short order, I'm sure your copy will be well used and dog-eared!'
Dwight Kayto PMP, ITSM Fellow, ITIL Expert
Reviews
Table of contents
1. Introduction
2. Acronyms
3. Service Strategy (SS)
4: Service Design (SD)
5. Service Transition (ST)
6: Service Operation (SO)
7: Continual Service Improvement (CSI)
8: Process Work Products
Appendix 1: References
Appendix 2: ITG Resources.