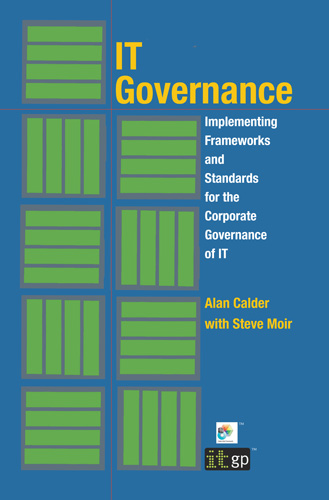 IT Governance: Implementing Frameworks and Standards for the Corporate Governance of IT
Details
SKU: 2276
Format: Softcover
ISBN13: 9781905356904
BIC: Corporate governance & responsibilities, COMPUTING & INFORMATION TECHNOLOGY
BISAC: BUSINESS & ECONOMICS / Corporate Governance, COMPUTERS / General
Pages: 216
Published: 13 Mar 2009
Availability: In Stock

Description
Corporate governance increasingly provides the context within which twenty-first century organisations have to assess and deal with their investments. But what is corporate governance, and why is it important to the IT professional? Why is IT governance important to the company director, and what do directors of companies – both quoted and unquoted – need to know?
Written for managers, executives and IT professionals, this book explains how to meet today's corporate and IT governance requirements. It also gives practical guidance on how board executives and IT professionals can navigate and deploy the numerous IT management and IT governance frameworks and standards — particularly ISO/IEC 38500.
The book also explains how to integrate each standard and framework using the Calder-Moir Framework, which was developed specifically to help organisations manage and govern their IT operations more effectively, and to coordinate the sometimes wide range of overlapping and competing frameworks and standards. It also specifically supports implementation of ISO/IEC 38500, the international standard for best practice IT governance.
Order your copy today.
Reviews
Table of contents
1: IT Governance Defined
2: Intellectual Capital and the Information Economy
3: Strategy: The Search for Competitive Advantage
4: Governance and Risk Management
5: IT Regulatory Compliance
6: Information and Continuity Risk
7: Internal Control Frameworks
8:Project Governance
9: Components of IT Governance
10: ISO/IEC 38500
11: IT Governance Frameworks and Standards
12: The Calder-Moir Framework
13: Implementing IT Governance
14: Decision Making and the IT Organisation
15: IT Steering Committee and Executive Committee
16: Enterprise IT Architecture Committee
17: IT Audit
18: The ITIL/COBIT/ISO27002 Joint Framework
19: The IT Management System of Tomorrow
20: Calder-Moir Implementation - a 15-Step Process
21: Making the Business Case for IT Governance