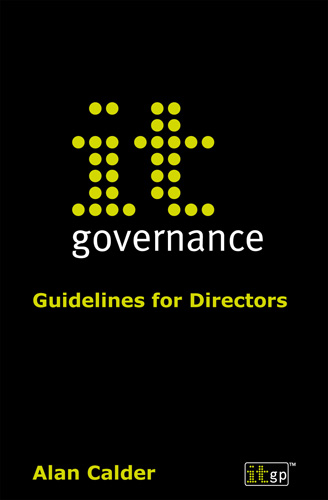 IT Governance: Guidelines for Directors
Details
SKU: 19
Format: Softcover
ISBN13: 9781905356072
BIC: Corporate governance & responsibilities, COMPUTING & INFORMATION TECHNOLOGY
BISAC: BUSINESS & ECONOMICS / Corporate Governance, COMPUTERS / General
Pages: 186
Published: 28 Apr 2005
Availability: In Stock

Description
Aligning IT with the business should be a key board objective. Better shareholder returns, greater competitiveness and fewer compliance issues are typical benefits of an IT governance framework. This book is an essential read for those sitting on the board of any organisation that want to reap these rewards.
This classic text cuts through the hype that surrounds IT governance to give clear, pragmatic guidelines for enabling IT and the business to work together to ensure enterprise success in the highly competitive, global information economy.
The book links IT governance to today's corporate governance environment and assesses the corporate impact that the convergence of financial, accounting and governance frameworks will have on organisations competing in today's economy.
This is not a technology book. It has been written specifically for those directors, managers and their professional advisers who want to leverage IT more effectively. It argues that getting real value from IT is about leadership and shows how the board and CEO can take that lead - and avoid security breaches, project failure, compliance exposure, reputation damage, job loss and jail time.
A book for business leaders of today - and tomorrow. Buy your copy now. 
Reviews
Table of contents
1: Why IT governance matters
2: Governance and risk management
3: Intellectual capital
4: Compliance
5: Information Risk
6: System deployment and project risk
7: Designing an IT governance framework
8: IT Governance in action
9: Issues for the public sector and not-for-profits
10: It's all about leadership