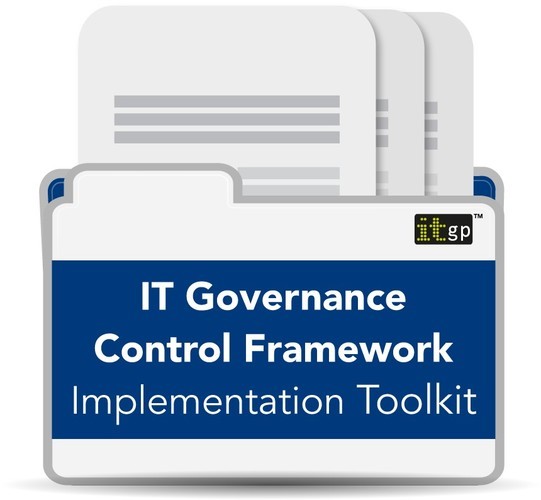 IT Governance Control Framework Implementation Toolkit
Details
SKU: 4204
Format: Toolkit
ISBN13: 9781849286251
BIC: Corporate governance & responsibilities, COMPUTING: GENERAL
BISAC: BUSINESS & ECONOMICS / Corporate Governance, COMPUTERS / General
Published: 01 Mar 2013
Availability: In Stock

Description
COBIT® 5 is the latest version of Control Objectives for Information and Related Technology, the best-practice control framework for the Governance of Enterprise IT (GEIT) developed by ISACA.
COBIT® 5 consists of five process domains and 37 processes designed to help organisations align their regulatory compliance, risk management and IT strategy with their organisational goals, and achieve operational excellence through the efficient use of IT. COBIT® 5 can be used with both ITIL®and ISO27002 to achieve process improvement.
The creation of these numerous documents is one of the main reasons that COBIT® projects fail. The IT Governance Control Framework Implementation Toolkit from IT Governance Publishing simplifies the documentation part of your COBIT® 5 implementation project, saving you time and money, and helping you avoid dead-ends.
Drawing on a decade of IT governance experience, our IT Governance Control Framework Implementation Toolkit is easy to use, easy to customise and contains all the policy and procedure documentation templates you will need.
Download this toolkit and meet COBIT®5's documentation requirements the easy way.
Table of contents
Blank Templates
Basic Checklist
Meeting Agenda
Meeting Agenda: Initial Board Meeting
Meeting Agenda: Second Board Meeting
Meeting Minutes
Meeting Minutes: Initial Board Meeting
Meeting Minutes: Second Board Meeting
Basic Procedure
Basic Schedule
Basic Service Level Agreement
Basic Work Instruction
Policies and Procedures
Business Continuity Planning Procedure (BCMS DOC 3.2a)
BCMS Policy Statement (BCMS DOC 5.1a)
ICT Governance Policy (CBT5 DOC 1.1) 
ICT Governance Charter (CBT5 DOC 1.1a) 
ICT Strategy Committee (CBT5 DOC 1.3)
ICT Steering Committee (CBT5 DOC 1.4) 
ICT Operational Committee (CBT5 DOC 1.5)
ICT Strategy Plan (CBT5 DOC 2)
ICT Implementation Plan (CBT5 DOC 2b)
Risk Management Policy (CBT5 DOC 3.1)
Change Management Policy (CBT5 DOC 3.4)
Internal Audit Planning for ICT (CBT5 DOC 4.1)
Information Plan (CBT5 DOC 4.2)
ICT Portfolio Management Framework (CBT5 DOC 5.1)
ICT Continuity Policy (CBT5 DOC 5.1a)
Information Security Policy (CBT5 DOC 5.2)
Document Control (CBT5 DOC 7.5.3)
Information Security Classification (ISMS-C DOC 8.2)
Control of Records (CBT5 DOC 18.1.3)
Forms and Records
ICT Champion Job Description (CBT5 DOC 2.1)
ICT Manager Job Description (CBT5 DOC 2.2)
Resource Manager Job Description (CBT5 DOC 2.3)
Relationship Manager Job Description (CBT5 DOC 2.4)
IT Risk Register (CBT5 DOC 4.3a)
Internal Audit Schedule (CBT5 REC 9.2.1)
Internal Audit Report Lead Sheet (CBT5 REC 9.2.2)
Nonconformance Report (CBT5 REC 10.1.1a)
Nonconformance Report Log (CBT5 REC 10.1.1b)
Reviews