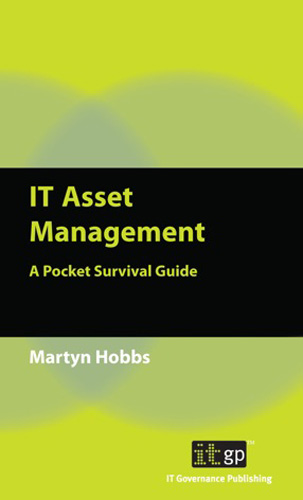 IT Asset Management - A Pocket Survival Guide
Details
SKU: 3489
Format: Softcover
ISBN13: 9781849282925
BIC: COMPUTING: GENERAL
BISAC: COMPUTERS / General
Pages: 58
Published: 04 Aug 2011
Availability: In Stock

Description
IT asset management (ITAM) is the set of business practices that join financial, contractual and inventory functions to support lifecycle management for elements found in the business environment, namely software and hardware.
Rewards to be gained from effectively implementing asset management are many and worthwhile. Although investment in an asset management project may not deliver an instant return, as the project starts to mature, opportunities to make savings will become apparent.
IT Asset Management: A Pocket Survival Guide is a quick reference style guide, addressing such serious issues with a fresh and pragmatic approach. Aimed at IT professionals who have been tasked with putting in place asset management disciplines, it first provides a commonsense introduction to the key processes outlined in the Information Technology Infrastructure Library (ITIL®), before proceeding to explain the various milestones of an asset management project. It will guide the reader through
building a hardware asset listing
managing software asset inventory effectively, so compliance with software licences is achieved
how to get senior management buy-in
how to define, enforce and control procedures to manage IT assets more effectively for maximum savings.
Buy this guide today and start implementing asset management for the benefit of your business. 
Reviews
Table of contents
1: Operational Chaos?
2: Basic Logistics and Inventory
3: Keeping it Fresh 
4: Licensed to Bill
5: Planning Aerial Assaults
6: Dealing with the Locals
7: Avoiding Expensive Mistakes
8: Sticking to the Plan