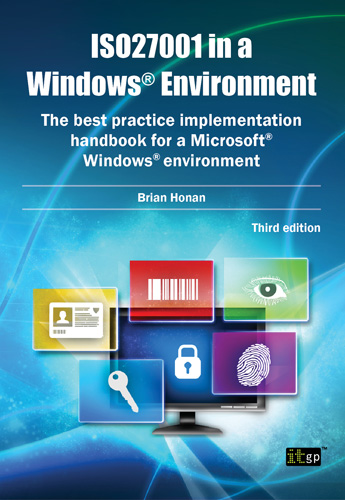 ISO27001 in a Windows Environment - The best practice implementation handbook for a Microsoft Windows environment
Details
SKU: 2207
Format: Softcover
ISBN13: 9781849286039
BIC: COMPUTER SECURITY, COMPUTING: GENERAL
BISAC: COMPUTERS / Security / General, COMPUTERS / General
Pages: 326
Published: 29 Jul 2014
Availability: In Stock

Description
Most ISO27001 implementations will involve a Windows® environment at some level. Unfortunately, there is often a knowledge gap between those trying to implement ISO27001 and the IT specialists trying to put the necessary best practice controls in place using Microsoft®'s technical controls. ISO27001 in a Windows® Environment bridges that gap and gives essential guidance to everyone involved in a Windows®-based ISO27001 project.
The third edition of ISO27001 in a Windows® Environment covers Windows® 8 and Microsoft®Windows Server® 2012. It is also completely aligned to ISO27001:2013, the latest version of the international standard for information security management. It: 
Details the various controls required under ISO27001, together with the relevant Microsoft® products that can be used to implement them.
Explains how to make the most of Windows® security features.
Is ideal for bridging the knowledge gap between ISO27001 and Windows® security.
Successfully implement ISO27001 in a Windows® environment with this step-by-step guide.
Reviews
Table of contents
1: Information and Information Security
2: Using an ISMS to Counter the Threats
3: An Introduction to ISO27001
4: Identifying your Information Assets
5: Conducting a Risk Assessment
6: An Overview of Microsoft Technologies
7: Implementing ISO27001 in a Microsoft environment
8: Securing the Windows environment
9: Securing the Microsoft Windows Server Platform
10: Auditing and Monitoring
11: Securing your Servers
Appendix 1: Overview of security settings for Windows Server 2008 and 2012 servers and domain controllers
Appendix 2: Bibliography, Reference and Further Reading