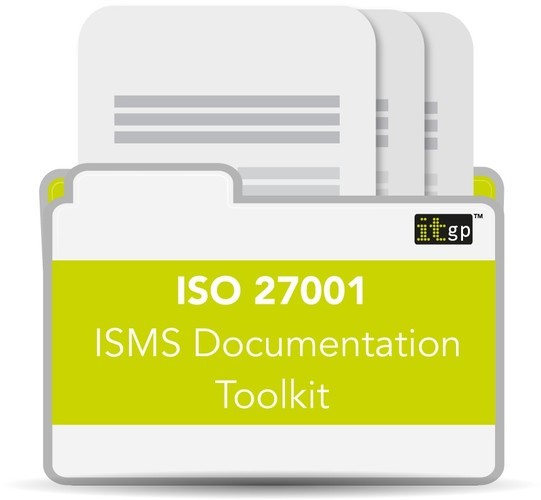 ISO27001 2013 ISMS Standalone Documentation Toolkit
Details
SKU: 4346
Format: Toolkit
ISBN13: 9781849286411
BIC: COMPUTER SECURITY, COMPUTING & INFORMATION TECHNOLOGY
BISAC: COMPUTERS / Security / General, COMPUTERS / General
Published: 01 Oct 2013
Availability: In Stock

Description
With cyber threats increasing daily and certification to the 2013 version of the ISO27001 Standard attainable, there has never been a better time to start an information security management system (ISMS) implementation project to preserve your organisation's cyber security. 
ISO 27001 certification requires documented evidence that you comply with the Standard. These documents – particularly for more complex businesses – can number more than 1,000 pages. The ISO 27001 ISMS Documentation Toolkit provides the documents you need, saving you time and money. It has accelerated ISO 27001/ISO 27002 compliance projects for thousands of organisations around the world.
Created by expert practitioners, the ISO27001:2013 ISMS Standalone Documentation Toolkit provides you with a comprehensive set of pre-written ISMS documents compliant with the ISO27001:2013 Standard that will save you months of work as you get you get your information security system up to speed.
Comprising the necessary policies, procedures, work instructions and records that you need, the ISO27001:2013 ISMS Standalone Documentation Toolkit includes:
Information Security Manual
Visio Documentation Map and Structure
Information Security Policy
Information Security Continuity Management for information security
Gap analysis ISO27001:2013 and ISO27002:2013 Audit tool
Asset Management documentation templates such as: Asset Inventory, Information Hardware Assets, Software log, etc.
Supplier Relationships documentation templates such as: External Parties Information Security Procedure and Third Party Service Contracts
Operations and Communications Security document templates dealing with: Anti-Virus Software, Vulnerability Management, Systems Auditing, System Planning & Acceptance, etc.
Designed and developed by expert ISO 27001 practitioners, and enhanced by over ten years of customer feedback and continual improvement, this ISO 27001 toolkit provides all of the information security management system (ISMS) documents you need in order to comply with the Standard.
With this toolkit, you can:
Get professional guidance so you can become your own expert, saving time and avoiding mistakes
Work from ISO 27001-compliant documentation that is accurate and aligned with the Standard
Embed the documentation into your organisation quickly and easily by using the pre-formatted templates
Meet local and global security laws, such as the General Data Protection Regulation (GDPR)
Make sure this toolkit is right for your organisation. Download free samples with a free demo! Download now
Unlike other toolkits on the market, this ISO 27001 ISMS Documentation Toolkit is proven to have helped organisations achieve certification.
Want to purchase individual documents? Find out more information here:  https://www.itgovernancepublishing.co.uk/topic/individualtemplates
Table Of Contents
Top level documents
Quick Start Guide: getting started and functionality
ISMS Guidelines: getting started with your ISMS
Information Security Manual
User Input worksheet
Guidance on integrating documents with vsRisk: Risk Assessment Tool
Project Tools
ISMS Overview
ISO27001: 2013 Gap Analysis Tool
ISO27002: 2013 Controls Gap Analysis Tool
ISO27001 Implementation Manager
ISO27001: 2013 Documentation Structure
ISO27001: 2013 Documentation Dashboard
ISO27001 requirements vs documents & controls vs documents
Information Security Management System
Section 4 – Context of Organisation
Context of the Organisation MSS DOC 4.1
Identification of Interested Parties Procedure MSS DOC 4.2
Legislation and Regulation MSS REC 4.2
Scope Statement MSS REC 4.3
Section 5 – Leadership
Integrated Management System Policy MSS DOC 5.2
Information Security Policy ISMS DOC 5.2
Roles and Responsibilities Document Management Tool ISMS REC 5.3
Section 6 - Planning
Risk Management Procedure MSS DOC 6.1
ISMS Plan ISMS DOC 6
Information Security Objectives and Planning ISMS DOC 6.2
Information Security Objectives ISMS REC 6.2
Risk Management Framework RM-ISMS DOC 6.1.1
Risk Assessment Procedure RM-ISMS DOC 6.1.2
Risk Assessment Tool RM-ISMS DOC 6.1.2a
Statement of Applicability Work Instruction RM-ISMS DOC 6.1.3d
Statement of Applicability Tool RM-ISMS SoA Tool
Risk Treatment Plan RM-ISMS REC 6.1.3
Risk Management:
Control A6 – Organisation of information security
Contact with Authorities ISMS-C DOC 6.1.3
Notebook Computer Security ISMS-C DOC 6.2.1
Telework Security ISMS-C DOC 6.2.2
Teleworker User Agreement ISMS-C DOC 6.2.2a
Schedule ISMS-C REC 6.1.3
Teleworker Checklist ISMS-C REC 6.2.2b
Control A7 – Human resource security
HR Department Requirements ISMS-C DOC 7.1
Personnel Screening Requirements ISMS-C DOC 7.1.1
Employee Termination ISMS-C DOC 7.3.1
Termination Checklist ISMS-C REC 7.3.1
Control A8 – Asset management
Asset Inventory & Ownership ISMS-C DOC 8.1.1
Internet Acceptable Use Policy ISMS-C DOC 8.1.3
Rules of Email Use ISMS-C DOC 8.1.3a
Email Box Control ISMS-C DOC 8.1.3b
Postal Services ISMS-C DOC 8.1.3c
Voicemail ISMS-C DOC 8.1.3d
Fax Machine ISMS-C DOC 8.1.3e
Photocopiers ISMS-C DOC 8.1.3f
Information Security Classification ISMS-C DOC 8.2
Media & Handling of Information ISMS-C DOC 8.3
Information Hardware Assets ISMS-C REC 8.1.1
Software Log ISMS-C REC 8.1.1a
Information Assets Database ISMS-C REC 8.1.1b
Intangible Assets ISMS-C REC 8.1.1c
Information Assets for Removal ISMS-C REC 8.3.1
Control A9 – Access control
Access Control Policy ISMS-C DOC 9.1.1
Access Control Rules & Rights ISMS-C DOC 9.1.2
Individual User Agreement ISMS-C DOC 9.2.1a
User Access Management ISMS-C DOC 9.2.3
Username Administration ISMS-C DOC 9.2.3a
Wireless User Addendum ISMS-C DOC 9.2.3b
Mobile Phone Addendum ISMS-C DOC 9.2.3c
Secure Logon ISMS-C DOC 9.4.2
Use of System Utilities ISMS-C DOC 9.4.4
User Deletion Request ISMS-C REC 9.2.1
User Replacement Password Requirement ISMS-C REC 9.4.2
Control A10 – Cryptography
Cryptographic Key Management ISMS-C DOC 10.1.2
Required Cryptographic Controls ISMS-C REC 10.1.1
Control A11 – Physical and environmental security
Physical and environmental security ISMS-C DOC 11.1.2
Fire Door Monitoring ISMS-C DOC 11.1.2a
Fire Alarm Monitoring ISMS-C DOC 11.1.2b
Burglar Alarm Monitoring ISMS-C DOC 11.1.2c
Reception Area ISMS-C DOC 11.1.2d
Public Access ISMS-C DOC 11.1.6
Equipment Security ISMS-C DOC 11.2.1
Fire Suppression ISMS-C DOC 11.2.1a
Air Conditioning ISMS-C DOC 11.2.1b
Standard Configuration ISMS-C DOC 11.2.4
Removal of Information Security Assets ISMS-C DOC 11.2.5
Storage Media Disposal ISMS-C DOC 11.2.7
Physical Perimeter Security ISMS-C DOC 11.1.11
Information Security Assets for Disposal ISMS-C REC 11.2.7
Control A12 – Operations security
Documented Procedures ISMS-C DOC 12.1.1
Control of Operational Software ISMS-C DOC 12.1.1a
Change Control Procedure ISMS-C DOC 12.1.2
System Planning and Acceptance ISMS-C DOC 12.1.3
Operational Test and Development Environment ISMS-C DOC 12.1.4
Policy Against Malware ISMS-C DOC 12.2.1
Controls Against Malware ISMS-C DOC 12.2.1a
Anti-Virus Software ISMS-C DOC 12.2.1b Backup Procedures ISMS-C DOC 12.3.1
Information Security Monitoring ISMS-C DOC 12.4.1
Software Installation ISMS-C DOC 12.5.1
Vulnerability Management ISMS-C DOC 12.6.1
System Auditing Procedure ISMS-C DOC 12.7.1
Log of Change Request ISMS-C REC 12.1.2a
Change Request Work Instruction ISMS-C REC 12.1.2
Audit Log Requirement ISMS-C REC 12.7.1
Monitoring Requirement ISMS-C REC 12.4.1
Administration and Operational Log ISMS-C REC 12.4.3
Control A13 – Communications security
Network Controls and Services ISMS-C DOC 13.1.1
Network Access Control Policy ISMS-C DOC 13.1.3
Network Access Control Procedure ISMS-C DOC 13.1.3a
Telecommunications Procedure ISMS-C DOC 13.2.1
Confidentiality Agreements ISMS-C DOC 13.2.4
Control A14 – System acquisition, development and maintenance
eCommerce & Online Transactions ISMS-C DOC 14.1.2
Secure Development Policy ISMS-C DOC 14.2.1
Secure Development Procedure ISMS-C DOC 14.2.1a
Control A15 – Supplier relationships
Information Security Policy for Supplier Relationships ISMS-C DOC 15.1.1
Third Party Service Contracts ISMS-C DOC 15.1.2
External Parties ISMS-C DOC 15.2.2
Control A16 – Information security incident management
Reporting the Information Security Weaknesses & Events ISMS-C DOC 16.1.2-3 Responding to Information Security Reports ISMS-C DOC 16.1.5
Collection of Evidence ISMS-C DOC 16.1.7
Information Security Event Report ISMS-C REC 16.1.2-3a
Information Security Weaknesses & Events Record ISMS-C REC 16.1.2-3b
Control A17 – Information security aspects of business continuity management Information Security Continuity Planning ISMS-C DOC 17.1.1
Information Security Continuity Plan ISMS-C DOC 17.1.1a
Information Security Risk Assessment ISMS-C DOC 17.1.2
Information Security Continuity Testing ISMS-C DOC 17.1.3
Control A18 - Compliance
Intellectual Property Rights ISMS-C DOC 18.1.2a
IPR Compliance ISMS-C DOC 18.1.2b
Control of Records ISMS-C DOC 18.1.3
Retention of Records ISMS-C DOC 18.1.3a
Data Protection & privacy ISMS-C DOC 18.1.4
Organisational Privacy ISMS-C DOC 18.1.4a
Terms and Conditions of Website Use ISMS-C DOC 18.1.4b
Internal Independent Review ISMS-C DOC 18.2.1
Compliance and Checking Procedure ISMS-C DOC 18.2.2
Obligations Schedule ISMS-C REC 18.1.1
Section 7 - Support
Hiring and New Starters Procedure MSS DOC 7.2.2
Training and Development Procedure MSS DOC 7.2.3
Awareness Procedure MSS DOC 7.3
Communication MSS DOC 7.4
Document Control MSS DOC 7.5.3
Job Description MSS REC 7.2.1
Induction Checklist MSS REC 7.2.2
Training Record Matrix MSS REC 7.2.3
Master List of Procedures MSS REC 7.5.3a
Master List of Records MSS REC 7.5.3b
Section 8 - Operation
Operational Control MSS DOC 8.1
Performance Evaluation Procedure MSS DOC 9.1
Internal Audit Procedure MSS DOC 9.2
Management Review of the ISMS MSS DOC 9.3
Internal Audit Schedule MSS REC 9.2.1
Internal Audit Report Lead Sheet MSS REC 9.2.2
Management Review Record MSS REC 9.3
Section 10 - Improvement
Non Conformity Procedure MSS DOC 10.1
Continual Improvement MSS DOC 10.2
Corrective Action Report MSS REC 10.1.1
Non Conformance Report MSS REC 10.1.1a
Non Conformance Report Log MSS REC 10.1.1b
Blank Templates
Basic Checklist
Basic Meeting Agenda
Initial Board Meeting Agenda
Second Board Meeting Agenda
Meeting Minutes
Initial Board Meeting Minutes
Second Board Meeting Minutes
Basic Procedure
Basic Schedule
Basic Service Level Agreement
Basic Work Instruction
Reviews