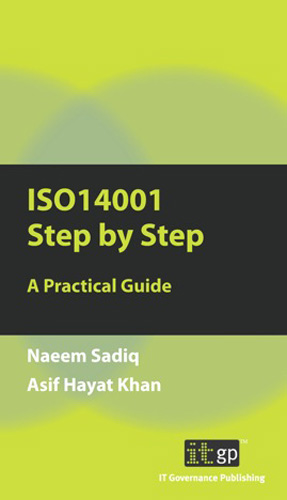 Description
The international standard for an environmental management system (EMS) is ISO14001. With an EMS certified to ISO14001, you can improve the safety and efficiency of your business operations, and, at the same time, boost customer confidence and reassure your stakeholders.
This pocket guide, intended to help you put in place an EMS, is specifically focused on ISO14001. It is designed to enable industry managers, who may be lacking in specialist knowledge, to achieve compliance with the Standard.
A step-by-step approach makes the guide easy to follow. The authors, two experienced auditors, are acknowledged experts on environmental management systems, and they have drawn on material from the UK's Environment Agency.
The pocket guide will prove invaluable, not only for auditors and trainers, but also for managers across many sectors of industry.
Reviews
Table Of Contents
1: Environmental Policy, Objectives and Programmes (Clauses 4.2 & 4.3.3)
2: Identifying Environmental Aspects and Determining Significant Impacts (Clause 4.3.1)
3: Regulatory Requirements and Evaluation of Compliance (Clauses 4.3.2 & 4.5.2)
4: Resources, Roles, Responsibility, Authority and Communication (Clause 4.4.1 & 4.4.3)
5: Competence, Training and Awareness (Clause 4.4.2)
6: Documentation, Document Control and Records (Clause 4.3.1)
7: Operational Controls (Clause 4.4.6)
8: Emergency Preparedness and Response (Clause 4.4.7)
9: Measuring and Monitoring (Clause 4.5.1)
10: Non-conformity, Corrective and Preventative Action (Clause 4.5.3)
11: Internal Audit (Clause 4.5.5)
12: Management Review and Continual Improvement (Clause 4.5.6)
13: Green Initiatives
Appendix 1: Sample Procedure for Identification of Environmental Aspects
Appendix 2: Sample Procedure for Internal and External Communication
Appendix 3: Sample Procedure for Control of Documents and Records
Appendix 4: Documents Required by ISO14001
Appendix 5: Records Required by ISO14001
Appendix 6: Sample Format for a Nonconformity Report (NCR)
Appendix 7: Sample Procedure for Internal EMS Audit
Appendix 8: Sample Input Report for EMS Management Review