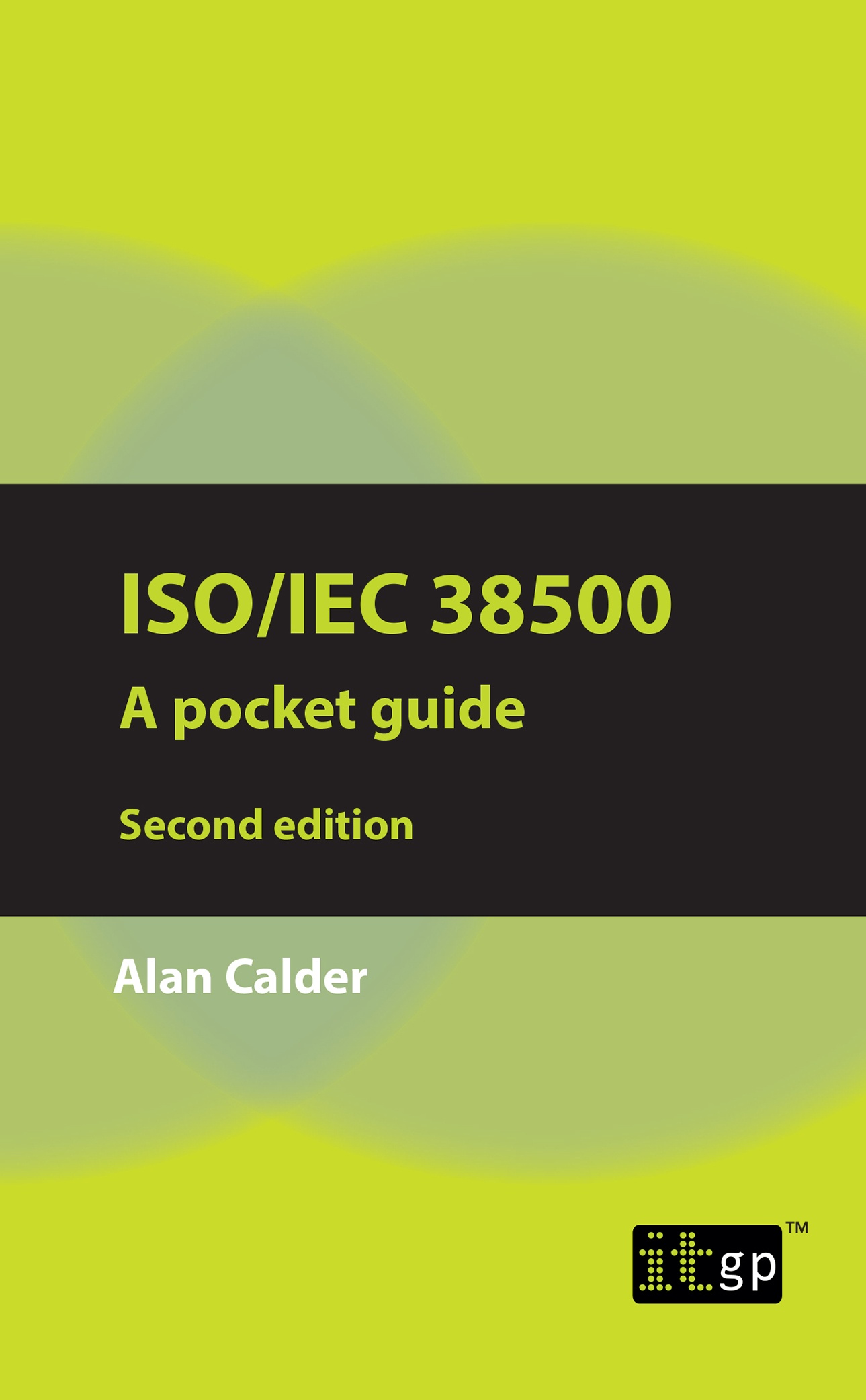 ISO/IEC 38500: A pocket guide, second edition
Details
SKU: 5481
Format: Softcover
ISBN13: 9781787781689
BIC: Corporate governance & responsibilities, COMPUTING & INFORMATION TECHNOLOGY
BISAC: BUSINESS & ECONOMICS / Corporate Governance, COMPUTERS / General
Pages: 50
Published: 26 Sep 2019
Availability: In Stock

Description
Understand ISO 38500: the standard for the corporate governance of IT
In the 21st century, IT governance has become a much-discussed topic among IT professionals. An IT governance framework serves to close the gap between the importance of IT and the understanding of IT, helping to improve your organisation's competitive position.
ISO/IEC 38500 is the international standard for the corporate governance of information and communication technology. The purpose of the standard is to create a framework to ensure that the board is appropriately involved, and it sets out guiding principles for governing bodies on how to ensure the effective, efficient and acceptable use of IT within their company.
This useful pocket guide is an ideal introduction for those wanting to understand more about ISO 38500. It describes the scope, application and objectives of the Standard and outlines its six core principles. It covers:
What is ISO/IEC 38500?
The corporate governance context
Scope, application and objectives
Principles and model for good governance of it
Implementing the six IT governance principles
ISO/IEC 38500 and the IT steering committee
Project governance
Other IT governance standards and frameworks
Integrated frameworks
Implement an IT governance framework to improve your organisation's competitive position. Buy this pocket guide today!
Reviews
Table of contents
Introduction
Chapter 1: What is ISO/IEC 38500?
Chapter 2: The corporate governance context
Chapter 3: Scope, application and objectives
Chapter 4: Principles and model for good governance of IT
Chapter 5: Implementing the six IT governance principles
Chapter 6: ISO/IEC 38500 and the IT steering committee
Chapter 7: Project governance
Chapter 8: Other IT governance standards and frameworks
Chapter 9: Integrating frameworks
Further reading