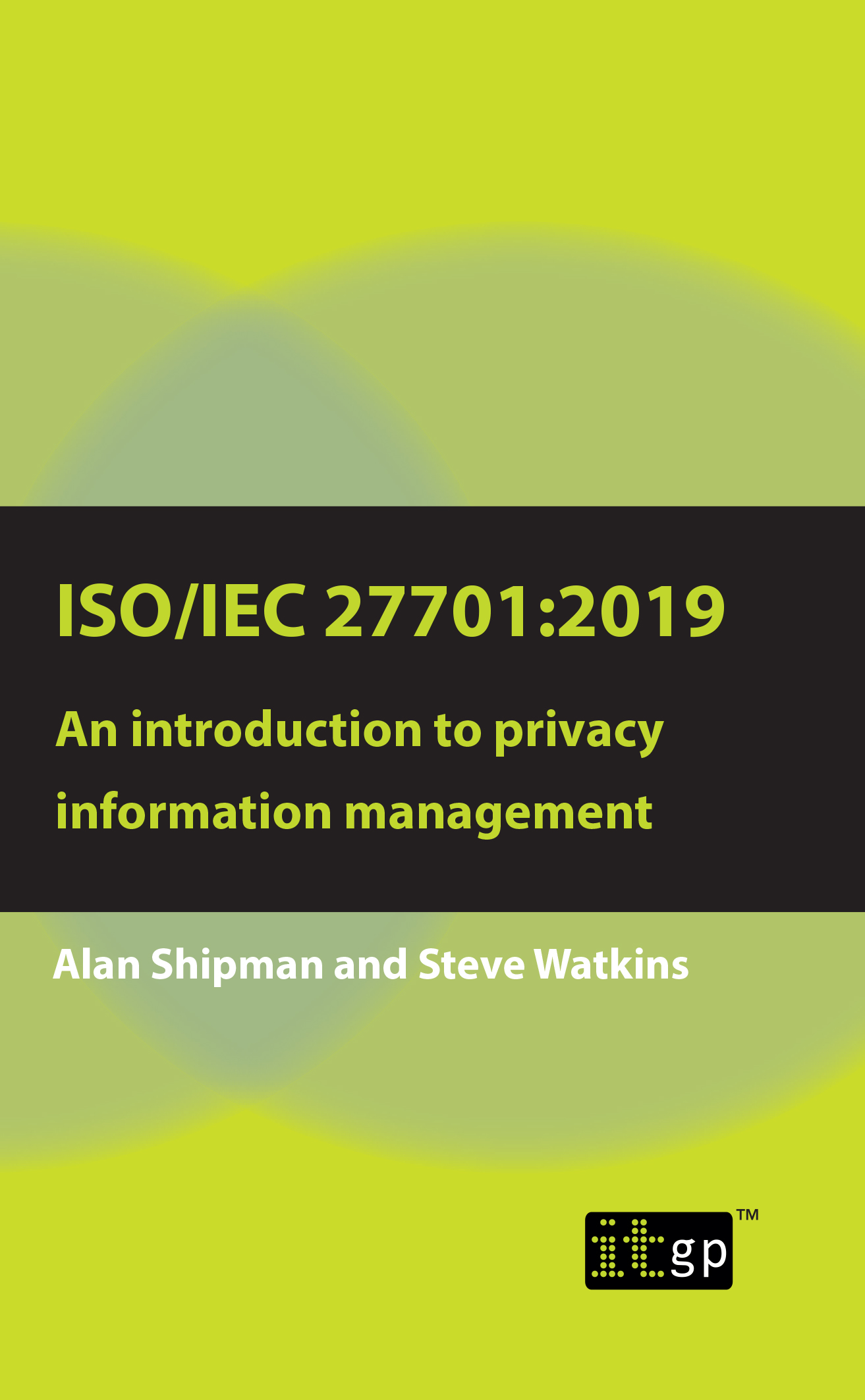 ISO/IEC 27701:2019: An introduction to privacy information management
Details
SKU: 5510
Format: Softcover
ISBN13: 9781787781993
BIC: Data protection law, COMPUTER SECURITY, Privacy & data protection, COMPUTING: GENERAL, COMPUTING & INFORMATION TECHNOLOGY
BISAC: LAW / Computer & Internet, COMPUTERS / Security / General, COMPUTERS / General
Pages: 50
Published: 31 Jan 2020
Availability: In Stock

Description
An ideal primer for anyone implementing a PIMS based on ISO/IEC 27701
ISO/IEC 27701:2019 is a privacy extension to the international information security management standard, ISO/IEC 27001. It has been designed to integrate with ISO 27001 to extend an existing ISMS (information security management system) with additional requirements, enabling an organisation to establish, implement, maintain and continually improve its PIMS.
ISO 27701 provides guidance on the protection of privacy, including how organisations should manage personal information, and helps demonstrate compliance with privacy regulations around the world, such as the GDPR (General Data Protection Regulation).
ISO/IEC 27701:2019: An introduction to privacy information management offers a concise introduction to the Standard, aiding those organisations looking to improve their privacy information management regime, particularly where ISO/IEC 27701:2019 is involved. It is intended for:
Individuals looking for general information about privacy information management; and
Organisations implementing, or considering improving, a PIMS, particularly where the use of ISO/IEC 27701:2019 is being considered.
It will enable you to understand the basics of privacy information management, including:
What privacy information management means;
How to manage privacy information successfully using a PIMS aligned to ISO/IEC 27701;
Key areas of investment for a business-focused PIMS; and
How your organisation can demonstrate the degree of assurance it offers with regard to privacy information management.
This guide will prove useful throughout a number of stages in any privacy information management project – buy your copy today!
Reviews
Table of contents
Introduction
Chapter 1: What is privacy information management?
Chapter 2: What needs to be considered?
Chapter 3: ISO/IEC 27701 and the privacy information management system requirements
Chapter 4: Legal, regulatory and contractual requirements and business risk
Chapter 5: Privacy information management controls
Chapter 6: Certification
Chapter 7: Terms and definitions