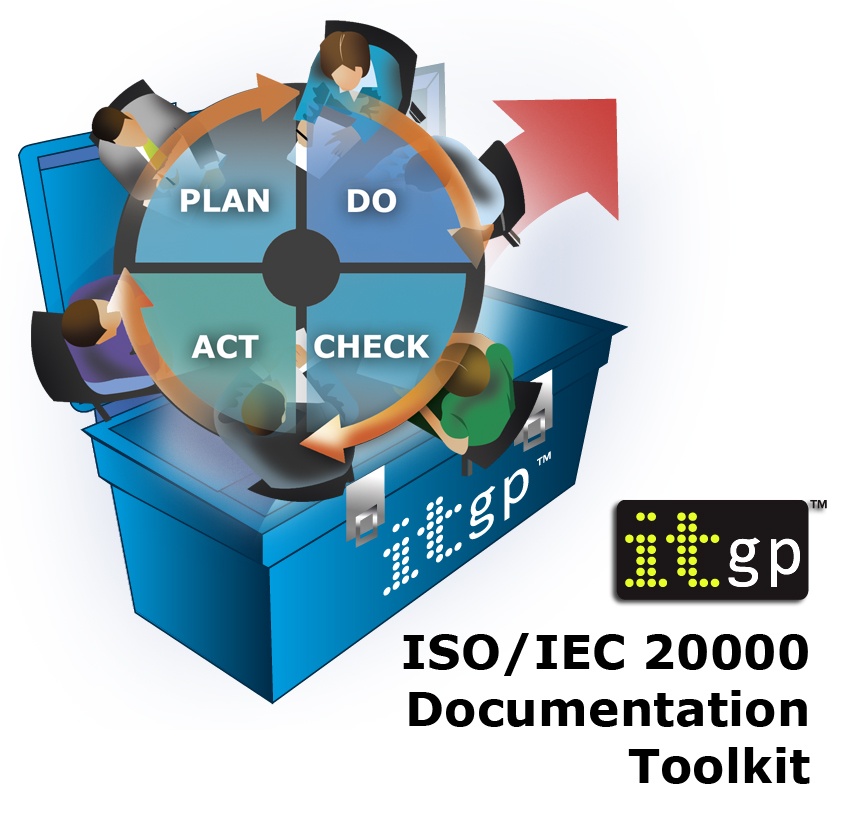 ISO/IEC 20000 Documentation Toolkit
Details
SKU: 3547
Format: Toolkit
ISBN13: 9781849286374
BIC: COMPUTING: GENERAL, COMPUTING & INFORMATION TECHNOLOGY
BISAC: COMPUTERS / General, COMPUTERS / Internet / General
Published: 30 Sep 2011
Availability: In Stock

Description
If you have an effective IT service management system (ITSMS) then you'll probably want to tell your customers about it. One effective way to do this is to achieve certification in ISO/IEC 20000, the international standard for ITSM. 
To achieve ISO/IEC 20000 certification there is an implementation process required, which in itself reassures new and existing customers of your commitment to progression. Implementing an ITSMS improves your business operations, and demonstrates that your company is efficient, reliable and trustworthy.
Creating the paperwork and policies for ISO20000 compliance from scratch, however, is no small task. It can be time consuming and expensive, and often involves wrong turns and dead ends. Fortunately there is the ISO/IEC 20000 Documentation Toolkit.
Developed by ISO/IEC 20000 Lead Auditor and ITSM consultant Michael Kunas, this toolkit gives your organisation the documentation it needs to implement an IT service management system while meeting the basic documentation requirements of ISO/IEC 20000-1. 
Crucially, we have designed the templates so that you can easily adapt them to your own needs, while retaining all that is required for ISO20000.
An ISO/IEC 20000 management system should be built on effective and active IT service management processes. This toolkit will be most valuable to those organisations that have already established significant IT Service Management documentation and those who are looking for the specific documents that will enable them to achieve ISO20000-1 certification.
Make sure this toolkit is right for your organisation. Download free samples with a free demo! Download now
Accelerate your ISO 20000 project with this toolkit - buy today. 
Table Of Contents
Project Tools
ISO20000 Gap Analysis Tool
ISO20000 Document Dashboard
ISO20000 Implementation Manager
Roles and Responsibilities Document Management Tool
PDCA Cycle and Documentation Pyramid
ITSMS Overview Presentation
Blank Templates
Basic Checklist
Basic Meeting Agenda 
Basic Meeting Agenda: Initial Board Meeting
Basic Meeting Agenda: Second Board Meeting
Basic Meeting Minutes
Basic Meeting Minutes: Initial Board Meeting
Basic Meeting Minutes: Second Board Meeting
Basic Procedure
Basic Schedule
Basic Service Level Agreemtn
Basic Work Instruction Template
ISMS Documents
Protection and Control of Documentation (MSS DOC 7.5.3)
Internal Audit Procedure (MSS DOC 9.2)
Management Review Procedure (MSS DOC 9.3)
Nonconformity and Corrective Active Procedure (MSS DOC 10.1)
Internal Audit Schedule (MSS REC 9.2.1)
Internal Audit Report Lead Sheet (MSS REC 9.2.2)
Nonconformance Report (MSS REC 10.1.1A)
Nonconformance Report Log (MSS REC 10.1.1B)
Inventory and Ownership of Assets Procedure (ISMS-C DOC 8.1.1)
Control of Records (ISMS-C DOC 18.1.3)
Change Request (ISMS-C REC 12.1.2)
Log of Change Request (ISMS-REC 12.1.2A)
Section 4: Service management system general requirements
Service Management Plan (ITSMS DOC 4.1)
Service Management Policy (ITSMS DOC 4.1.2)
Information Security Policy (ITSMS DOC 4.1.2.1) 
Availability Manager (ITSMS DOC 4.1.3.1) 
Business Relationship Manager (ITSMS DOC 4.1.3.2)
Capacity Manager (ITSMS DOC 4.1.3.3)
Change Manager (ITSMS DOC 4.1.3.4)
Configuration Manager (ITSMS DOC 4.1.3.5)
Service Continuity Manager (ITSMS DOC 4.1.3.6)
Budgeting and Accounting Manager (ITSMS DOC 4.1.3.7)
Incident and Service Request Manager (ITSMS DOC 4.1.3.8)
Problem Manager (ITSMS DOC 4.1.3.9)
Release and Deployment Manager (ITSMS DOC 4.1.3.10)
Security Manager (ITSMS DOC 4.1.3.11)
Service Level Manager (ITSMS DOC 4.1.3.12)
Service Report Manager (ITSMS DOC 4.1.3.13)
Supplier Manager (ITSMS DOC 4.1.3.14)
Service Improvement Policy (ITSMS DOC 4.5.5.1)
Service Improvement Plan (ITSMS DOC 4.5.5.2) 
Section 5: Design and transition of new or changed services
New or Changed Service Proposal (ITSMS DOC 5)
Service Acceptance Criteria (ITSMS DOC 5.1) 
Section 6: Service delivery processes
Service Catalogue (ITSMS DOC 6.1.1)
Service Level Agreement (ITSMS DOC 6.1.2.1)
Operational Level Agreement (ITSMS DOC 6.1.2.2)
Service Level Management Process (ITSMS DOC 6.1.3) 
Underpinning Contract (ITSMS DOC 6.1.4) 
Service Reporting Process (ITSMS DOC 6.2) 
Service Reporting Policy (ITSMS DOC 6.2.1) 
Key Performance Indicators (ITSMS DOC 6.2.3) 
Service Continuity Management Process (ITSMS DOC 6.3.1) 
Service Availability Management Process (ITSMS DOC 6.3.2)
Availability Management Plan (ITSMS DOC 6.3.3)
Business Impact Analysis (ITSMS DOC 6.3.4) 
Service Continuity Plan (ITSMS DOC 6.3.5)
Service Continuity Planning (ITSMS DOC 6.3.6)
Service Continuity Risk Assessment (ITSMS DOC 6.3.7)
Testing, Maintaining and Re-assessing Service Continuity Plans (ITSMS DOC 6.3.8)
Budgeting and Accounting Management Process (ITSMS DOC 6.4)
Accounting Policy (ITSMS DOC 6.4.1)
Capacity Management Process (ITSMS DOC 6.5)
Capacity Management Plan (ITSMS DOC 6.5.1) 
Security Management Process (ITSMS DOC 6.6)
Section 7: Service delivery processes
Business Relationship Management Process (ITSMS DOC 7.2)
Supplier Management Process (ITSMS DOC 7.3)
Section 8: Resolution processes
Incident Management Process (ITSMS DOC 8.2) 
Problem Management Process Template (ITSMS DOC 8.3) 
Section 9: Control processes
Configuration Management Process Template (ITSMS DOC 9.1) 
CMDB Audit Plan (ITSMS DOC 9.1.1)
Configuration Management Plan (ITSMS DOC 9.1.2) 
Change Control Process (ITSMS DOC 9.2)
Release Management Process (ITSMS DOC 9.3 )
Release Policy (ITSMS DOC 9.3.1)
Reviews