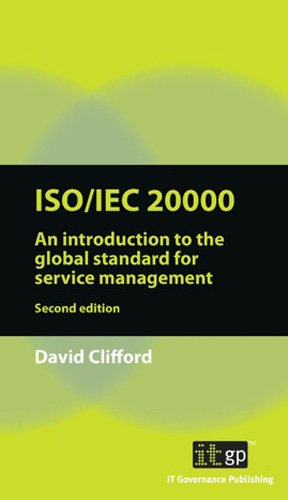 ISO/IEC 20000 - An Introduction to the global standard for service management
Details
SKU: 2962
Format: Softcover
ISBN13: 9781849283144
BIC: COMPUTING: GENERAL
BISAC: COMPUTERS / General
Pages: 74
Published: 01 Nov 2011
Availability: In Stock

Description
Employing a structured IT service management system (ITSMS) will enable your organisation to identify how to improve the service you deliver to your customers. The international standard for IT service management is ISO/IEC 20000. Achieving compliance with this Standard brings real operational benefits and shows new and potential customers that your organisation is efficient, reliable and trustworthy.
This pocket guide is a handy reference to the key information on ISO/IEC 20000. It features an overview of the purpose of the standard and shows how to use it. It explains qualification programmes, certification schemes and the interrelationship of ISO 20000 with other standards, such as ISO 27001.
The overall emphasis of the guide is on ISO 20000's customer-driven approach to ensure your IT service management processes align with the needs of your business.
Make your IT service management work for your business with ISO 20000. 
Reviews
Table of contents
1: Background
2: Key Stakeholder Bodies
3: Qualification Programmes
4: Compliance and Certification
5: Certification Schemes
6: Scope of Assessment
7: Relationship with other Standards
8: The Future of ISO/IEC 20000