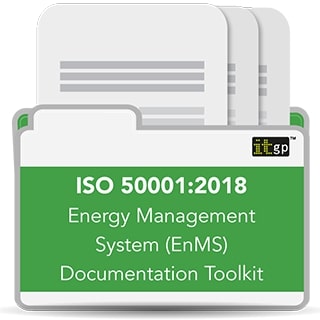 Details
SKU: 5054
Format: Toolkit
ISBN13: 9781787781061
BIC: Environmental policy and protocols, Environmental factors
BISAC: POLITICAL SCIENCE / Public Policy / Environmental Policy, MEDICAL / Public Health
Published: 30 Jul 2019
Availability: In Stock

Description
Reduce your carbon footprint and combat climate change with ISO 50001
ISO 50001, the international standard for energy management, provides a framework for managing energy performance and addressing energy costs. Complying with ISO 50001 ensures your organisation can:
Meet legal and contractual energy compliance requirements;
Save money by managing energy more efficiently; and
Demonstrate a commitment to improved energy performance.
Climate change is an existential threat to humanity and should be on every board's agenda. ISO 50001 can help organisations conserve resources, reduce their carbon footprint and combat climate change.  
Our experienced management system consultants have designed the ISO 50001 Toolkit to help organisations of all types and sizes quickly and easily implement an EnMS (energy management system) that complies with ISO 50001.
Why choose the ISO 50001 Toolkit?
Save money by reducing the need for specialist and expensive consultants and advisers.
Save time with our customisable ISO 50001 templates – quickly and efficiently create policies and procedures with less stress.
Have confidence in your documentation by using our formatted and fully customisable pre-written ISO 50001-compliant documents suitable for any organisation.
Meet legal and contractual requirements the easy way with expert guidance.
Stand out from the competition by demonstrating your commitment to improved energy performance.
Reduce energy consumption and associated costs while accelerating your EnMS implementation project.
Key features
Comprehensive coverage of ISO 50001:2018 requirements – our toolkit contains more than 50 documents including tools, templates and guidance notes.
Developed by industry experts who understand exactly what you need to do to achieve compliance.
Easy-to-use, customisable templates and tools to help you develop the documents you need to provide evidence of your compliance.
Detailed, practical guidance to help you through your compliance project.
Follows the structure of the Standard to help you map the documents to each clause
Get started on your stress-free ISO 50001 project – buy our toolkit today!
Make sure this toolkit is right for your organisation
The documentation templates are compatible with Microsoft Office 2016, 2013, and 2010. If you use a Mac, an older version of Office or Office 365, please email team@itgovernancepublishing.co.uk.
If the toolkit is updated within 12 months of purchase, we'll send you the newest version for free. Please note that this does not include updates that are made as a result of changes to the Standard. Please see our FAQ for further information.
Table Of Contents
Top-level documents
QuickStart Guide
Copyright Licence
FAQs
ISO 50001 ENMS Manual 
ENMS Guidelines
UserInput
Project tools
ISO 50001 Documentation Dashboard
PDCA Cycle Guidance                                                             
Energy management system documents

Clause 4 – Context of the organisation
Context of the Organisation Procedure                           ENMS DOC 4.1
Interested Parties Procedure                                         ENMS DOC 4.2
Scope Statement                                                         ENMS REC 4.3
Clause 5 – Leadership
Policy Statement                                                          ENMS DOC 5.2
Document Control & Responsibilities Map                       ENMS REC 5.3
Clause 6 – Planning
Risk Management Procedure                                         ENMS DOC 6.1
Risk and Opportunity Register                                       ENMS REC 6.1
Energy Objectives Procedure                                         ENMS DOC 6.2
Objectives, Targets and Action Plans                              ENMS REC 6.2
Energy Review Procedure                                              ENMS DOC 6.3
Energy Review Plan and Data                                        ENMS REC 6.3
Clause 7 – Support
Competence Procedure                                                 ENMS DOC 7.2
Competence Matrix                                                      ENMS REC 7.2
Hiring and New Starter Procedure                                  ENMS DOC 7.2.2
Induction Checklist                                                       ENMS REC 7.2.2
Training and Development Procedure                             ENMS DOC 7.2.3
Awareness Procedure                                                   ENMS DOC 7.3
Communications Procedure                                           ENMS DOC 7.4
Communications Record                                               ENMS REC 7.4
Suggestion Form                                                          ENMS REC 7.4A
Suggestion Record                                                       ENMS REC 7.4B
Document Control Procedure                                         ENMS DOC 7.5.3
Clause 8 – Operation
Operational Control Procedure                                       ENMS DOC 8.1
Procurement Procedure                                                ENMS DOC 8.3
Clause 9 – Performance evaluation
Monitoring and Measurement Procedure                         ENMS DOC 9.1
Internal Audit Procedure                                               ENMS DOC 9.2
Internal Audit Schedule                                                ENMS REC 9.2.1
Audit Lead Sheet                                                          ENMS REC 9.2.2
Management Review Procedure                                     ENMS DOC 9.3
Management Review Record                                          ENMS REC 9.3 
Clause 10 – Improvement
Nonconformity and Corrective Action Procedure              ENMS DOC 10.1
Nonconformance Report                                               ENMS REC 10.1A
Nonconformance Report Log                                         ENMS REC 10.1B
Continual Improvement Procedure                                 ENMS DOC 10.2
Blank templates
Checklist
Meeting Agenda
Meeting Agenda: Initial Board Meeting
Meeting Agenda: Second Board Meeting
Meeting Minutes
Meeting Minutes: Initial Board Meeting
Meeting Minutes: Second Board Meeting
Procedure
Schedule
Service Level Agreement
Work Instruction
Reviews