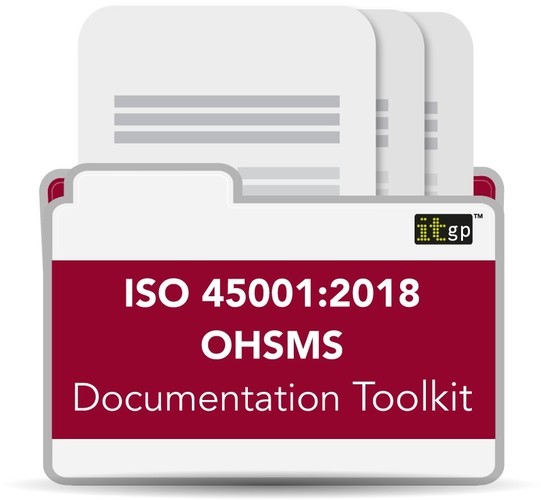 ISO 45001:2018 OHSMS Documentation Toolkit
Details
SKU: 4955
Format: Toolkit
ISBN13: 9781787780088
BIC: Occupational health & safety law, Health & safety aspects of computing, Industrial relations & safety
BISAC: TECHNOLOGY & ENGINEERING / Industrial Health & Safety, LAW / Labor & Employment, POLITICAL SCIENCE / Labor & Industrial Relations, COMPUTERS / Social Aspects, BUSINESS & ECONOMICS / Labor / General
Published: 05 Dec 2018
Availability: In Stock

Description
Take the stress out of your OHSMS compliance project with our comprehensive ISO 45001 Documentation Toolkit.
According to the report Global Estimates of Occupational Accidents and Work-related Incidents 2017 there are over 2.78 million deaths and 274 million non-fatal injuries and illnesses per year as a result of occupational accidents or work-related diseases. By creating and maintaining an OHSMS (Occupational Health & Safety Management System), employers can reduce workplace incidents, improve staff morale and increase productivity. ISO 45001:2018 is the international standard for creating and maintaining an OHSMS, replacing OHSAS 18001.
Whether you need to transition your organisation from OHSAS 18001 to ISO 45001, or you are implementing your first OHSMS project, our toolkit will help you save time and money in gaining ISO 45001 certification.
Why choose the ITGP ISO 45001 Documentation Toolkit?
Reduce the costs of your compliance project. Our comprehensive set of tools and templates provide everything you need to implement an ISO 45001-compliant OHSMS.
Save time with our customisable templates. Efficiently create policies and procedures so that your organisation and employees see the benefits as quickly as possible.
Have confidence in your documentation by using our fully compliant toolkit to generate your evidence.
Stand out from the competition. By complying with an international standard, you will prove to your employees, clients, prospects and other stakeholders that you follow best practice and take responsibility for the well-being of your staff.
Key features
Comprehensive coverage of the Standard, our toolkit contains 75 documents including tools, templates and guidance notes.
Developed by industry experts who understand exactly what you need to do to achieve compliance.
Easy-to-use, customisable templates and tools to help you develop the documents you need to provide evidence of your compliance.
Detailed, practical guidance to help you through your compliance project.
Follows the structure of the Standard to help you map the documents to each clause for ease of use.
Designed to integrate with ITGP's other management system standard toolkits, enabling you to efficiently create an integrated management system.
Get started on your stress-free ISO 45001 project – buy our toolkit today.
The documentation templates are compatible with Microsoft Office 2016, 2013, 2010 and 2007. If you use a Mac®, an older version of Office or Office 365, please contact team@itgovernancepublishing.co.uk.
If the toolkit is updated within 12 months of purchase, we'll send you the newest version for free. Please note that this does not include updates that are made as a result of changes to the Standard.
Table Of Contents
Top-level documents
Quick Start Guide
Copyright Licence
FAQs
ISO 45001 OH&S Manual
ISO 45001 OH&S Toolkit Guidance
UserInput
Project tools
OHSAS 45001 Documentation Dashboard
Occupational health & safety management system
Clause 4 – Context of the organisation
Context Procedure
Interested Parties Procedure
Scope Statement

Clause 5 – Leadership and worker participation
Policy Statement
Document Control & Responsibilities Matrix
Consultation & Participation Procedure
Clause 6 – Planning
Risk Management Procedure
Risk & Opportunity Register
Hazard & Risk Assessment Procedure
Risk Assessment Record
Health & Safety Check
Objectives Measurement Procedure
Objectives Programme Form
Clause 7 – Support
Competence Procedure
Competence Matrix
Hiring & New Starter Procedure
Job Description Template
Induction Checklist
Training & Development Procedure
Training Record
Awareness Procedure
Communications Procedure
Communications Record
Document Control
Clause 8 – Operation
Operational Control
Procurement Procedure
Emergency Preparedness & response Procedure
Evacuation & Emergency Response Procedure
Equipment Maintenance Procedure
Equipment Maintenance Schedule
Driving Policy
Vehicle Checks Procedure
Vehicle Checklist
DSE Assessment Procedure
Display Screen Equipment Checklist
Eye Care Policy
Permit to Work Procedure
Manual Handling Procedure
Sickness & Ill Health Policy
Self-Certificate Form
Absence Reporting Procedure
Absence Record
Chemical Safety Procedure
Hazardous Substance Risk Assessment Form
Clause 9 – Performance evaluation
Monitoring & Measurement Procedure
Monitoring & Measurement Register
Control of Test & Measurement Equipment Procedure
Master Equipment List
Measurement Equipment Report Form
Internal Audit Procedure
Internal Audit Schedule
Audit Lead Sheet
Management Review Procedure
Management Review Record
Clause 10 – Improvement
Incident Response Procedure
Nonconformity & Corrective Action Procedure
Nonconformance Report
Nonconformance Report Log
Continual Improvement Procedure
Blank templates
Checklist
Meeting Agenda
Meeting Agenda: Initial Board Meeting
Meeting Agenda: Second Board Meeting
Meeting Minutes
Meeting Minutes: Initial Board Meeting
Meeting Minutes: Second Board Meeting
Procedure
Schedule
Service Level Agreement
Work Instruction
Reviews