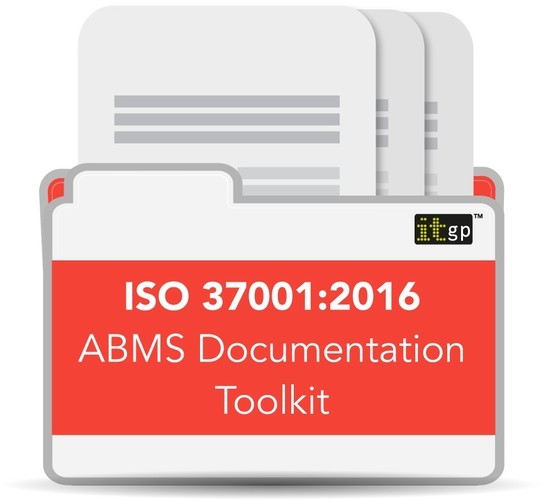 ISO 37001:2016 ABMS Documentation Toolkit
Details
SKU: 4811
Format: Toolkit
ISBN13: 9781849289023
BIC: Legal aspects of computing, Legal system: general
BISAC: LAW / Computer & Internet, LAW / General
Published: 27 Feb 2017
Availability: In Stock

Description
Bribery is a global risk for all organisations and each organisation is unique, therefore, bribery risks will differ. 
Businesses involved in 'working relationships' risk reputational damage, increased costs, devalue the quality of products and services offered, and create an unfair and inefficient trading market.
This toolkit has been developed to meet the requirements of ISO 37001:2016 and can be used in any jurisdiction by organisations of any type and size. It provides the necessary policies, procedures and control documentation for organisations demonstrating their commitment to combatting bribery.
This ISO 37001:2015 ABMS Documentation Toolkit integrates with:
ISO 27001:2013 ISMS Documentation Toolkit
ISO 9001:2015 QMS Documentation Toolkit
ISO 14001:2015 EMS Documentation Toolkit
Crafted by an expert in anti-bribery law, this toolkit enables your organisation to roll out an anti-bribery management system in a fraction of the time and at a fraction of the cost of building your own from scratch. The toolkit will ensure that your system complies with the international standard, ISO 37001:2016, and aligns with your existing ISO 27001:2013 ISMS, ISO 14001:2015 EMS and ISO 9001:2015 QMS.
Make sure this toolkit is right for your organisation. Download free samples with a free demo! Download now
Mitigate the risk of bribery in your organisation. Buy this toolkit today. 
Table Of Contents
Top level documents
ABMS Toolkit Introduction
Toolkit Guidance
User Input
Copyright Licence
Project Tools
ISO 37001:2016 ABMS Document Dashboard
ISO 37001:2016 vs BS 10500 Mapping
ISO 37001:2016 Gap Analysis Tool
Integrate ISO 37001:2016 with another Management System Standard (MSS) Requirement vs Document Mapping
ABMS Guidance Documents
Leadership and Commitment Guidance – Clause 5.1
Anti-Bribery Compliance Function Guidance – Clause 5.3.2
Section 4 – Context of the organisation
Context of the Organisation MSS DOC 4.1
Identification of Interested Parties MSS DOC 4.2
Legislation and Regulation Record MSS REC 4.2
Scoping Statement MSS REC 4.3
Risk Assessment Procedure ABMS DOC 4.5
Bribery Risk Assessment and Treatment Plan RM-ABMS REC 4.5
Section 5 – Leadership
Anti-Bribery Policy ABMS DOC 5.2
Communicating the Anti-Bribery Policy and ABMS Checklist ABMS REC 5.2 Document Management Tool: Roles and Responsibilities ABMS REC 5.3
Section 6 – Planning
Risk Management Procedure MSS DOC 6.1
ABMS Objectives and Planning ABMS DOC 6.2
Anti-Bribery Objectives ABMS REC 6.2
Section 7 – Support
Competence Procedure MSS DOC 7.2
Hiring and New Starters Procedure MSS DOC 7.2.2
ABMS Employment Policy ABMS DOC 7.2.2a
Training and Development Procedure MSS DOC 7.2.3
Leavers Process MSS DOC 7.2.4
Awareness Procedure MSS DOC 7.3
Communications Procedure MSS DOC 7.4
Protection and Control of Documentation Procedure MSS DOC 7.5.3 Competence Matrix MSS REC 7.2
Job Description MSS REC 7.2.1
Induction Checklist MSS REC 7.2.2
Employment Procedure Checklist ABMS REC 7.2.2a
Training Record MSS REC 7.2.3
Master list of Procedures MSS REC 7.5.3a
Master list of Records MSS REC 7.5.3b
Section 8 – Operation
Non-Financial and Operational Control Procedure ABMS DOC 8.1
Due Diligence, Business Associates and Facilitation Payments Procedure ABMS DOC 8.2
Gifts, Hospitality, Donation and Similar Benefits Policy ABMS DOC 8.7 Investigating and Dealing with Bribery Procedure ABMS DOC 8.10
Due Diligence, Business Associates and Facilitation Payments Checklist ABMS REC 8.2
Due Diligence Sample Questionnaire ABMS REC 8.2a
Gifts, Hospitality and Donations Checklist ABMS REC 8.7
Gifts and Hospitality Register ABMS REC 8.7a
Section 9 – Performance evaluation
Monitoring, Measurement, Analysis, Evaluation Procedure MSS DOC 9.1 Internal Audit Procedure MSS DOC 9.2
Management Review Procedure MSS DOC 9.3
Monitoring and Measurement Register MSS REC 9.1
Internal Audit Schedule MSS REC 9.2.1
Internal Audit Report Lead Sheet MSS REC 9.2.2
Management Review Record MSS REC 9.3
Section 10 – Improvement
Nonconformity and Corrective Action Procedure MSS DOC 10.1
Continual Improvement Procedure MSS DOC 10.2
Corrective Action Report MSS REC 10.1.1
Non-conformance Report MSS REC 10.1.1a
Non-conformance Report Log MSS REC 10.1.1b
Reviews